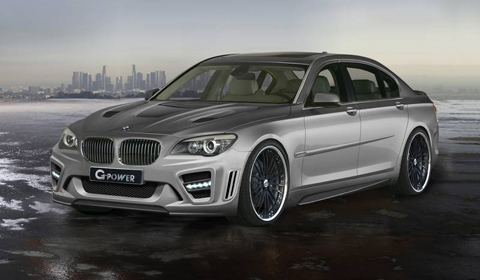 Ever thought that the BMW 760i was lacking in insanity? If you answered yes to that question then G-Power have definitely got something that you would be interested in. Coming from the same company that gave us the 625bhp X6 and the 750bhp M6, this 760i is unlikely to disappoint even the most hardcore tuning nuts.
With 725bhp produced at 5,500rpm and maximum torque of 1000Nm at just 2,000rpm, it is easy to see why G-Power are calling this the fastest 7-Series in the world. G-Power explain that;
due to customer preference, G-POWER, so far predominantly well known on modifying the potent BMW M models, has now focused on the BMW flagship in the luxury segment and developed an overall concept.
The 'Storm' will be limited to just ten examples, so what will owners get that justifies the exclusivity? The answer to this question is that ten people will get the chance to own a complete tuning package. Aerodynamics, handling, power and interior are all taken care of with equal skill and precision at G-Power's German headquarters.
To start with, G-Power have taken the 760i's 6.0 liter V12 bi-turbo power plant and have administered a number of modifications. In collaboration with turbocharging specialists ASA, G-Power have managed to produce a number of substantial modifications which allow them to substantially increase the boost and achieve the higher power figures. Almost doubling the boost, the 'Storm' now measures 0.9bar (standard 0.5bar) allowing for the 181bhp rise when coupled with other strengthening measures.
A larger set of injection valves and an entirely new exhaust system have been added with sports catalysts replacing the standard units. An obligatory ECU tweak sees all the modifications performing in an optimized manner with the eight-speed transmission also receiving some attention to help it cope with the mountain of torque.
0-100km/h (62mph) takes 4.2 seconds, 0-200km/h (124mph) takes just 11.9 seconds and top speed becomes unlimited to 345km/h (214mph).
Whilst this is very impressive, we must also comment on the looks of the car. Whilst the changes aren't subtle, we are assured that they do the job and keep the 760i Storm planted all the way up to 345km/h (214mph). With components produced mostly from carbon fibre, G-Power have replaced the front bumper, bonnet, side skirts, rear bumper and rear diffuser. These modifications allow for 15% better cooling allowing for better displacement of the hot air dual turbochargers are certain to produce.
Sports springs help the car sit 30mm lower. Forged three-part G-Power Silverstone RS aluminum wheels have also been fitted measuring 9.5×22 and 10.5×22 inches. Tyres come from G-Power's development partner Michelin in dimensions 265/30 ZR22 at the front axle and 295/25 ZR22 at the rear axle.
As always, interiors can be engineered to a customers preference using high-quality materials. For more information on the car, please visit G-Power's website.