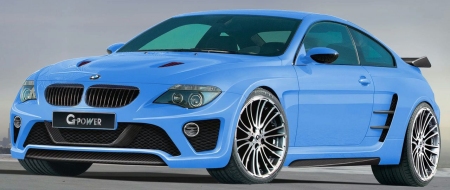 German tuner G-Power has unveiled the fastest BMW M6 Coupe in the world with a top speed of 370km/h. Unfortunately it's unclear how and when this top speed was achieved, nor did they mention the exact top speed.
The M6 Hurricane CS is powered by a V10 SK III RS twin-supercharger engine with 750hp/552kW, available between 7,500 and 8,000rpm. The engine delivers its peak torque of 800Nm at 5,000rpm. It's the same engine which enabled the M5 Hurricane CS to achieve a top speed of 367,4km/h claiming World's Fastest Sedan last year. Sprint times of less than 4.4 seconds from rest to 100km/h, 9.6 seconds to 200km/h and 26 seconds to 300km/h are facts supporting the advanced tuning of the car.
Further characteristics of the M6 Hurricane CS are the multipart widebody kit, the high performance carbon-ceramic break system, the individually adjustable suspension kit and nifty 21 inch light-alloy wheels with Michelin Pilot Sport PS2 tires in sizes 255/35 ZR 19 in front and 305/30 ZR 19 on the rear axle.
In the vehicle interior they switched the standard front seats for racing seats made from carbon fibre gaining 24kg of weight. The cockpit features a speedometer with 400km/h scale, clear-coated carbon-fiber panels for dash, center console and doors, as well as a new sport steering wheel with perforated Kjerba Nappa leather.
The G-power M6 Hurricane CS can be ordered as a complete car starting at 360.000 Euros.