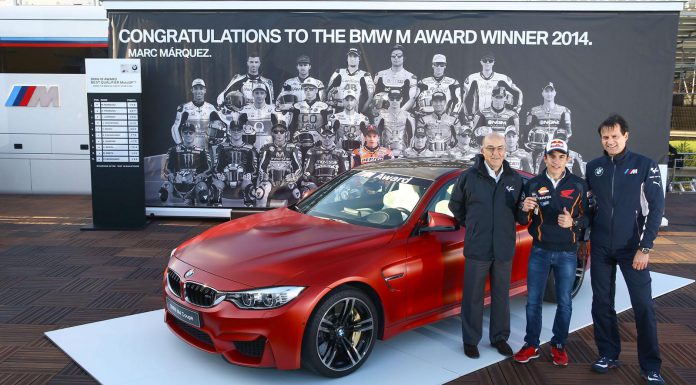 Not too long ago, it was confirmed that BMW would give the best qualifier of the 2014 MotoGP season a bespoke M4 Coupe. Unsurprisingly, that award went to Honda's Marc Marquez for the second year running after starting from the front of the grid on 13 separate occasions.
This particular BMW M4 Coupe has been customised through the BMW Individual program and is finished in Frozen Red Metallic. In the cabin, it has been fitted with Merino Opal White leather as well as a selection of wooden accents. Finally, Marquez's new M4 Coupe comes with the M dual-clutch transmission as well as carbon ceramic brakes.
Discussing the prize, Marquez said "Knowing the prize is there at the end of the year gives you special motivation when going for pole on Saturday. This year even more so, because I really like this BMW M4 Coupé. I am happy to receive this car and, of course, I will enjoy it."
"Congratulations to Marc Marquez on winning the BMW M Award again," said Thomas Schemera, Director of Sales and Marketing BMW M GmbH. "Last year he came through as a rookie to defeat his more experienced opponents. In 2014 he raised the bar again with 13 pole positions. It was breath-taking to see how Marc went from one success to the next this year."
Last year, Marquez walked away with a Frozen Black BMW M6 Coupe after winning the BMW M Award.
As a reminder, under the hood, both the new M3 sedan and M4 coupe are fitted with a twin-turbocharged six-cylinder engine revving to 7600 rpm and producing an impressive 431 hp between 5390 rpm and 7000 rpm and 406 lb-ft of torque from a low 1800 rpm to 5390rpm. That torque figure is available across a broad rev range and is an improvement over the outgoing BMW E92 M3 of 40 per cent.