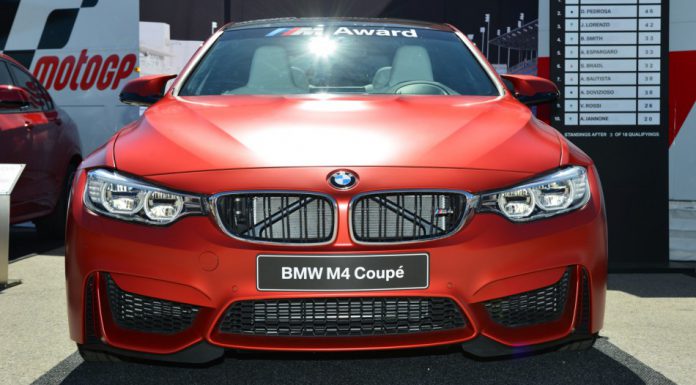 MotoGP riders are being given a little extra incentive to consistently qualify well with confirmation coming that at the end of the 2014 season, the driver with the most qualifying points will receive a special BMW M4 Coupe.
As you may recall, last year's MotoGP World Champion Marc Marquez walked away with a Frozen Black BMW M6 Coupe after winning the BMW M Award. As it stands, he is currently leading the qualifying race with 100 points compared to Jorge Lorenzo and Dani Pedrosa both on 62 points.
Importantly, just four MotoGP races have been held this year so the award is still very much up in the air. However, we can imagine a bright red BMW M4 Coupe would perfectly complement Marquez's M6 from last year!
As a reminder, under the hood, both the new M3 sedan and M4 coupe are fitted with a twin-turbocharged six-cylinder engine revving to 7,600 rpm and producing an impressive 431 hp between 5,390 rpm and 7,000 rpm and 406 lb-ft of torque from a low 1,800 rpm to 5,390rpm. That torque figure is available across a broad rev range and is an improvement over the outgoing BMW E92 M3 of 40 per cent.
Deliveries of the BMW M4 Coupe only recently began and according to the first reviews, it's a worthy successor to the E92 M3 Coupe.