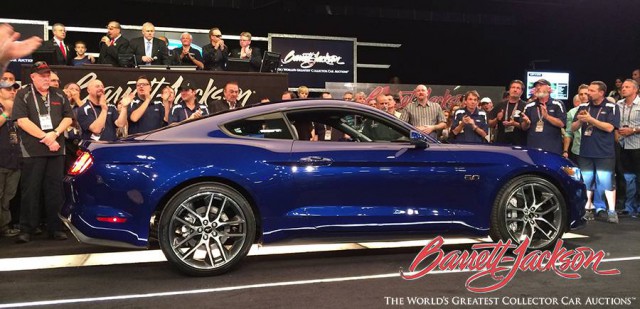 The Barrett-Jackson auction in Scottsdale, AZ, played host to the sale of one of the most valuable and anticipated Mustangs ever to be sold at auction.
The 2015 Mustang hasn't even hit showrooms yet, but has become quite the sought-after car for Mustang enthusiasts. It comes as no surprise that it sold for $300,000. This would mean that the car sold for more than eight times its sticker price when it arrives in dealerships this Fall.
The 2015 Mustang was auctioned off for no reserve on behalf of the Juvenile Diabetes Research Foundation (JDRF) with proceeds going to the charity.
According to the Ford Motor Company, the car's winning bidder will get to choose whether they want a manual or automatic transmission, and any interior, exterior and stripe color combination offered by Ford on the 2015 Mustang.
The Mustang GT's power will come from a revised version of the well-known 5.0-liter V8 engine that will produce 420 hp and 396 lb-ft of torque.
[Photos via Autoblog]