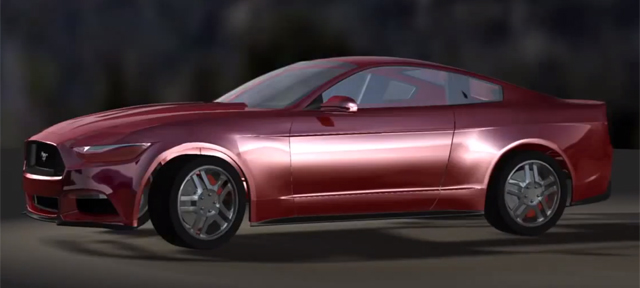 As we draw ever closer to the launch of the next-generation Mustang, the flood of fan-made renders and drawings continues to poor in.
And while many of the renders we have already seen are more speculation that anything else, this render claims to be something more. According to a report by MustangDaily, the artist behind the video — Charles Cronley — spoke to multiple Mustang "insiders" before creating the render.
[youtube]http://www.youtube.com/watch?v=UPpGdZtHxWE[/youtube]
And while the render itself is not of the highest quality, Cronley did accurately piece together a render of the 2005 Mustang well before its official release. In addition to listening to people who have actually seen the 2015 'Stang, Cronley pieced together various spy photos in order to fill out the Mustang's shape.
Cronley's contacts also report that the new Mustang will not feature the famous C-scoop styling on the side of the car. Instead, a more futuristic streamline side profile is to be expected. Ford is also deciding over four or five different types of hood scoops and headlight assemblies, according to Cronley.
Take a look at the video above for a look at what the new Mustang could look like. While we hope the final product will look a bit better than the rendering, Cronley's track record suggests that the render could have more truth to it than not.
Keep in mind that the video is quite short, so you may have to hit pause in order to get the full effect.