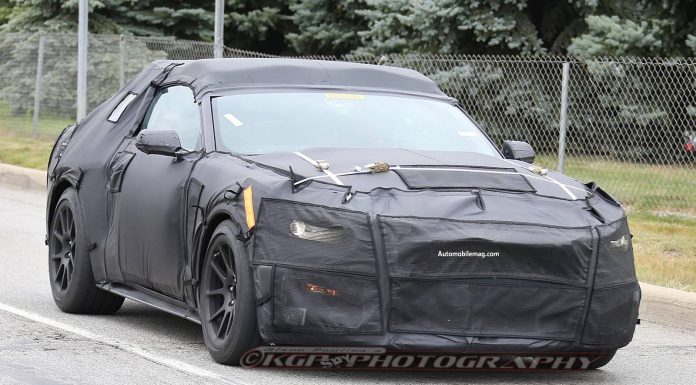 The upcoming 2015 Ford Mustang has been spied testing under heavy camouflage on numerous occasions, but the very first images of what's believed to be the 2015 Ford Mustang GT350 have been released.
While the car is still heavily camouflaged, there are a few key new design elements giving it away as a more potent Mustang prototype. More specifically, this 2015 Ford Mustang GT350 prototype is rolling a larger and wider set of wheels hiding drilled rotors. From the rear, this prototype is sporting a quad-exhaust pipes which inevitably emit a stunning exhaust growl.
Some other minor changes include what appears to be a more aggressive front bumper including the slimline headlight design we've seen on previous prototypes. As if further evidence was needed to confirm this as a more potent 2015 Mustang test vehicle, the car was seen entering the Ford SVT headquarters.
As for what's powering the 2015 Ford Mustang GT350, it's a real unknown at this stage. However, it's predicted to feature a 5.0-liter V8 engine delivering well in excess of 500hp.
[Via Automobile Magazine]