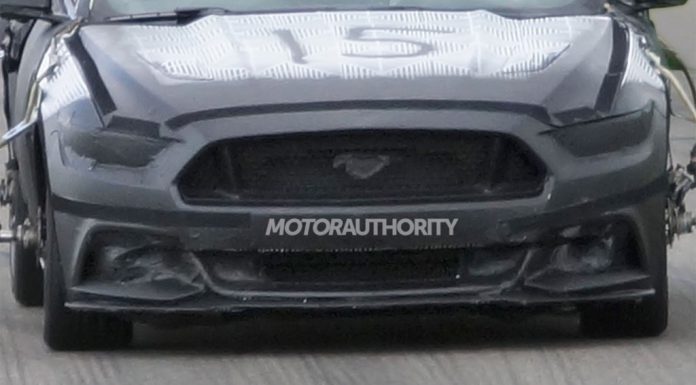 The latest 2015 Ford Mustang prototype has given us our clearest look of its facelifted front-end thus far, with the following prototype being spotted at the race track alongside the current Mustang.
While this 2015 Ford Mustang prototype is still heavily camouflaged, the camo at the front is body-tight and showcases the dramatically restyled front bumper and headlights. Those headlights appear significantly narrower than the current model, and that's exactly what recent clay models of the car showcased. As a matter of fact, the front end is quite similar to the Ford Tauras.
In other news, the current Ford Mustang is a lightweight. In fact, in GT coupe specification, it tips the scales at around 3,600 pounds which is some 260 pounds less than the Chevrolet Camaro SS and more than 400 pounds lighter than a Dodge Challenger R/T. However, the 2015 Ford Mustang is set to weigh significantly less than any of those, including the outgoing Mustang, with reports suggesting it'll shed some 400 pounds!
Those weight savings will be achieved through the use of lightweight materials such as aluminium. However, don't expect to find any carbon fiber body panels on the 2015 Ford Mustang. Additionally, this lighter overall weight will be achieved in part to the smaller size of the 2015 Ford Mustang. As a matter of fact, the new car will measure 15 inches shorter than the current car as well as being 6.5 inches narrower.
[Via Motor Authority]