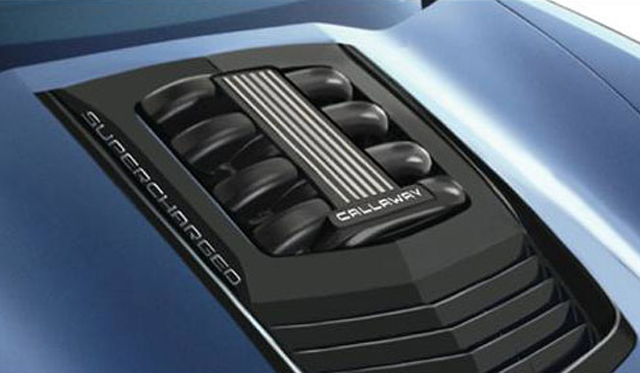 Callaway has just released a teaser image of its first tuned 2014 Chevrolet Corvette Stingray with the image featuring a Corvette ZR1 inspired hood opening showcasing a massive intake manifold sitting on top of a brand new supercharger.
While details about the 2014 Chevrolet Corvette Stingray by Callaway are limited, the car will produce significantly more than the 450hp of the base and so far only Corvette C7 to be revealed. In fact, the Corvette Stingray by Callaway is likely to develop a similar amount of horsepower to the old Corvette ZR1 meaning over 620hp.
Whenever the car is released, it makes sense that Callaway is the first company to take a stab at the seventh-generation Chevrolet Corvette. In fact, Callaway was recently granted the exclusive rights by Chevrolet to produce a GT3 racing variant of the Corvette C7 for competitions around the world.
Since 2006, Callaway been the sole provider of the Chevrolet Corvette Z06.R GT3 race car which has gone onto become the most successful team in its respective racing series. As you would expect from any upcoming entrant into the GT3-class, the Corvette C7 GT3 by Callaway Competition will all the outlandish and high-downforce bodywork one could ever wish for.
In road-going specification, the 2014 Chevrolet Corvette Stingray is the most powerful base Chevrolet Corvette ever produced, with just over 450hp being pumped out by its new generation LT1 GM V8 engine.