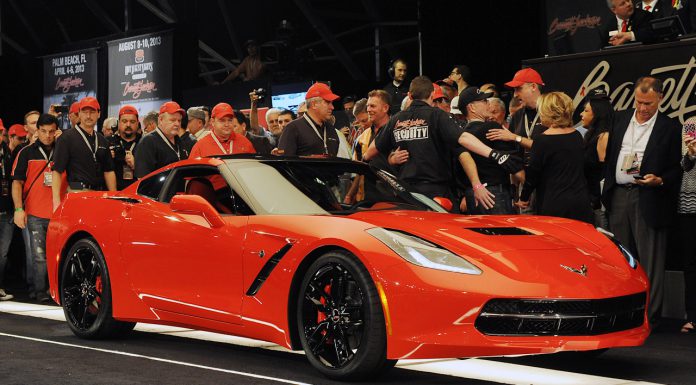 Remember NASCAR team owner Rick Hendrick who paid $1.1 million for the very first 2014 Chevrolet Corvette Stingray from a Barrett-Jackson auction in January? Well, Hendrick was finally handed the keys to the first production-ready Corvette C7 Stingray to roll off the production line on Friday.
As a reminder, the regular 2014 Chevrolet Corvette Stingray goes for $51,995 so Hendrick certainly paid quite the premium for the privilege to own chassis number 0001!
The new car is the most powerful base Chevrolet Corvette ever produced, with a cool 455hp being produced for its new generation LT1 GM V8 engine. As a result, the new car surpasses the previous generation base C6 substantially in every performance aspect and is able to launch to 100km/h in under four seconds, pull over 1G when cornering and being able to stop from 100km/h in a similar time to the Z06 Corvette.
As a matter of fact, the new engine also creates 50lb-ft more torque low-end torque than the previous generation powerplant with it being able to compete with the LS7 V8 engine from 1,000-4,000rpms.
Chevrolet believes that the seventh-generation Corvette, or C7, is so extraordinary and such a jump in technology over all previous Corvette's, that it named it the Corvette Stingray after the legendary Stingray from the 1960's.