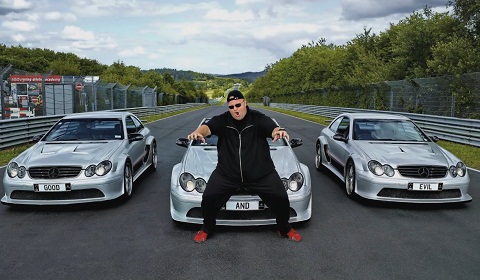 A video has emerged through Kim Dotcom aka Kim Schmitz' YouTube account showing Kim's trackday at the Nürburgring Norschleife with three of his cars, all Mercedes-Benz CLK DTM AMG's! The video features Kimi Raikkonen, the Lotus Formula 1 driver and Finn Batato, another of those indicted in the litigation surrounding Megaupload.
The video has been professionally filmed using 30 cameras, a crew of over 100, 2 helicopters, 2 camera cars and a plane. The song? Obviously another Kim Dotcom production named "Take me away" and produced by Printz Board. We're told that the final edit of the video was seized during the FBI raid.
The event happened last year when Kim took several of his cars over to Europe. Pictures were found shortly after Kim's incarceration. All vehicles have now been impounded by the New Zealand Authorities. His collection included a two Mercedes-Benz CLK DTM with the numberplates 'GOOD' and 'EVIL', a Rolls-Royce Phantom Drop Head Coupe with 'GOD' numberplate, a Mercedes-Benz ML63 AMG with 'GUILTY' and a Mercedes-Benz CL63 AMG with a 'HACKER' plate.
By way of update on the case, Kim has now been released on bail. The conditions of the bail, influenced heavily by the United States, are that he must remain within 80 km of his Coatesville residence and is barred from Internet access. This video was probably uploaded by a friend, yet it shows why authorities moved so quickly on Kim.
AT the time of the original raid, 64 bank accounts as well as various PayPal accounts were suspended by the FBI. These contained around $ 175 million in the names of Megaupload Ltd., Vestor Ltd., Finn Batato, Julius Bencko, Sven Echternach, Mathias Ortmann, Andrus Nomm, and Bram Van Der Kolk. The accounts are known to be held in New Zealand, China, Germany, Malaysia, Philippines, the Netherlands, Australia, and Slovakia as well as with PayPal and Citibank.
Around thirty cars and motorcycles were seized as well as property and technology on the strength of a series of emails that appear to show Kim offering cash rewards for uploaders who had provided specific DVDs and other copyrighted works. One series shows how Kim wanted to copy YouTube 'one-to-one'. Among the seized items three 82-inch Samsung 820DXN LCD TVs, two 108-inch Sharp LCD TVs, two Sony PMW-F3K cameras, two 65-inch Sharp LC-65XS1M LCD TVs, a 56-inch TVLogic LUM56W computer screen and 60 Dell 710 computer servers were taken from the house.
Kim's defence centres around the 800 files per second uploaded to Megaupload and the impossibility of policing all that traffic. He will also rely on US privacy laws such as Electronic Communication Privacy Act, which prohibits the administrators from looking into the accounts of the users. Kim said: "If there was a bright side to my time in jail, it was weight loss, I dropped 16kg".
The latest news is that a trial may not even be possible under US law. The revelation comes from the Judge handling the case, Judge O'Grady. He recently informed the FBI that Megaupload was never served with criminal charges, a requirement to start a trial. US law states that unlike people, companies can't be served outside US jurisdiction. From a casual outsiders point of view, the case appears to be falling apart. It will be interesting to see what happens in the coming months.