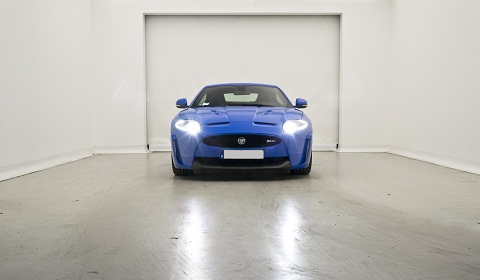 Alexander van Boekholdt sent us a gallery of photos from his recent photo shoot with the Jaguar XKR-S. The Dutch photographer got a chance to shoot the Jag both inside and out; interior and exterior, open air and in the studio! The photos cover the car in superb detail, giving you a complete overview of the Jaguar XKR-S experience.
The Jaguar XKR-S is powered by a supercharged 5.0 liter V8 providing a 550hp total, 1hp more than the famous 1992 Jaguar XJ220, once the worlds fastest car! It is of course the most powerful road-going Jaguar ever produced by the British manufacturer. The XKR-S produces 680Nm of torque which allows it to accelerate from 0 to 100km/h in 4.4 seconds and on to a top speed of 300km/h.
Alexander reports that the car was superb. This particular car has a French Racing Blue exterior, a colour that has become synonymous with the Jaguar XKR-S. The interior features Warm Charcoal leather with carbon accents, Reims Blue contrast stitch and piping and aluminium veneers.
We've seen Alexander's photos before, previously he presented a gallery of photos from a photo shoot with the McLaren MP4-12C. You can check out the full photo shoot over at Alexander's website, Spyker Force.