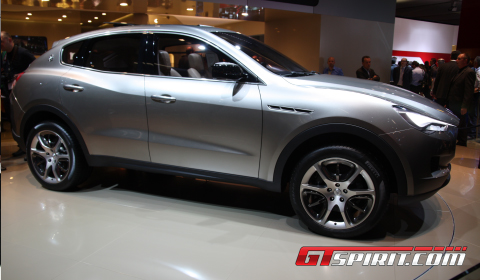 Maserati will display the Kubang SUV to the North American market for the first time on January 10th at the Detroit Motor Show 2012. The concept SUV is expected to join the Italian automaker's line-up at some point in the near future. This would be the first time, since its unveiling at Frankfurt in September, it has been seen in the United States.
The new Maserati vehicle in the sport luxury SUV segment will represent the future direction for Maserati to enlarge its product range and strengthen its presence in the sport luxury market. The design of the Maserati Kubang has been created by the Maserati Style Center headed by Lorenzo Ramaciotti. The engine will be designed in Modena by Paolo Martinelli – Head of the Maserati Powertrain Department and for nearly thirty years at Ferrari.
It's fitting that this SUV should be displayed in the United States as underneath it shares the same platform as the Jeep Grand Cherokee. Expect two engine choices when it eventually goes on sale, a 4.7 liter V8 with at least 450 horsepower and a 3.0 liter turbo-diesel V6 making 300 horsepower.