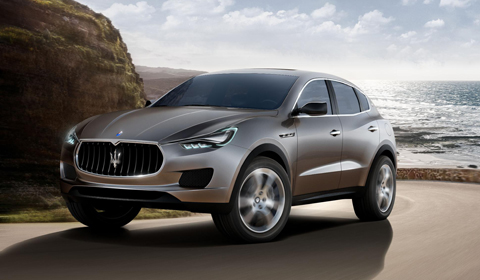 Maserati has officially unveiled their high performance luxury SUV at the 64th edition of the IAA in Frankfurt. Named the Kubang, the Maserati SUV is the company's answer to the success of the Porsche Cayanne.
Until today Maserati has been producing sedans, coupes and two- or four-seater convertibles. But times have changed: sportiness and luxury today don't have just one definition. They can also take the form of a very dynamic looking and high performing sport luxury SUV. At the 2011 Frankfurt Motor Show the Italian car maker presented the Maserati Kubang.
The new Maserati vehicle in the sport luxury SUV segment will represent the future direction for Maserati to enlarge its product range and strengthen its presence in the sport luxury market. According to the Italian manufacturer the Kubang maintains the integrity of Maserati's DNA by offering driving pleasure and a luxury atmosphere similar to today's high-end sports and luxury cars.
The idea of a sport luxury SUV is naturally not new to Maserati. Back in 2003 Maserati already unveiled a SUV concept at the Detroit Auto Show. But since its parent company Fiat had acquired the Chrysler Group, Maserati could benefit from the experience and know-how of Chrysler division Jeep. The synergy with its American sister brand culminated in the Maserati Kubang.
Maserati claims that the essence and all major system components of the Maserati sport luxury SUV will unmistakably be Maserati: style, engine, suspensions, brakes, handling and performance will all be 100 percent Maserati in picture-perfect continuity with the brand's core values of sportiness, style, elegance, luxury, performance and craftsmanship.
The design of the Maserati Kubang has been created by the Maserati Style Center headed by Lorenzo Ramaciotti. The engine will be designed in Modena by Paolo Martinelli – Head of the Maserati Powertrain Department and for nearly 30 years at Ferrari, where he also served as engine chief of the Formula One racing team – and will be produced in Maranello by Ferrari.
An AT eight-speed automatic transmission and specific performance settings such as suspensions, brakes, steering will be exclusively developed in Modena for the Maserati sport luxury SUV by the Maserati Product Development Department.
More details will be unveiled in the near future, so stay tuned for more news coming from Frankfurt!