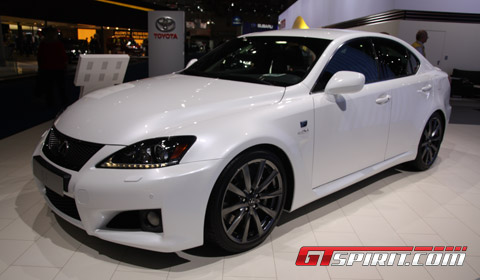 Japanese car maker Lexus showed the upgraded 2012 Lexus IS-F at the Frankfurt Motor Show 2011. This marks the third update to the IS-F in three years, which display the Japanese commitment to continuous improvement.
The upgrade for the European and Australian market was announced back in August and consists out of a suspension update, with stronger stabilizer bars, new bearings, new shock absorbers, and a revised suspension geometry. These upgrades results in a better and more dynamic driving experience, less body roll, and improved comfort.
The Lexus IS-F is powered by a 5.0 liter V8 which provides 423 horsepower and 505Nm of torque. The power is transferred to the rear wheels via an eight-speed automatic transmission. The powerful long distance cruiser is able to accelerate from standstill to 100km/h in 4.7 seconds. The electronically limited top speed is 270km/h, which is still 20km/h more than its German rivals.
In addition to the chassis improvements, two new options are available for the IS-F, including a set of 19 inch BBS wheels in a ten-spoke design exclusive for the US and Europe, and two-tone leather sport seats.
For an extensive review and photo shoot check out our road test of the Lexus IS-F.