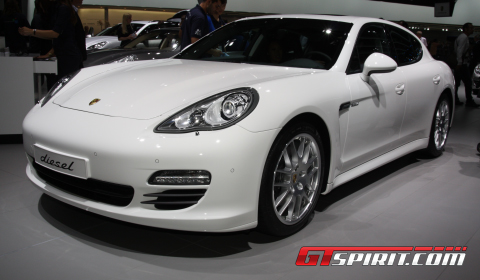 Although Porsche's main focus is the introduction of the new 911, the German manufacturer also showed other cars at the Frankfurt Motor Show 2011. One of them is a diesel-fueled version of the Panamera.
The Porsche Panamera is very successful and a diesel version was long awaited, since these kind of engines are quite common in the market for executive saloons. Some purists would argue the Panamera, especially a diesel powered version, is just like the Cayenne SUV not a true Porsche. But let's not forget the Cayenne and the Panamera are the marque's best-selling vehicles and diesel powered engines are a logical step to meet demand for fuel-efficient vehicles.
The Panamera Diesel is powered by a 3.0 liter V6 engine derived from a Volkswagen engine. This V6 puts out 250 horsepower achieved between 3,800rpm and 4,400rpm. The maximum torque of 550Nm is available all the way from 1,750rpm to 2,750rpm. Paired with the eight-speed Tiptronic S transmission, the six-cylinder turbo diesel accelerates the luxury saloon from a standing start to 100km/h in just 6.8 seconds. The top speed is 242km/h.
Most interesting is the fuel consumption of only 6.3 liters per 100 kilometer. This results in a range in excess of 1,200 kilometers on an 80 liter tank, making the new Panamera Diesel an economical yet sportive GT saloon. The Panamera Diesel is exclusively available with rear-wheel drive.