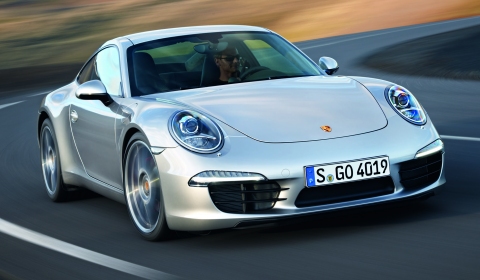 Finally, we can share with you the official information concerning the 2012 Porsche 991 Carrera. Today the Germans released the "completely redesigned" seventh generation of a sports car icon, the 911.
The 100 millimeter longer wheelbase, the wider front track, remodelled exterior mirrors and reduced height combined with the up to 20 inch wheels are noticeable. At the same time, the typical sports car compact exterior dimensions were retained. The all-new, lightweight body is an intelligent aluminium-steel construction.
The Porsche designers created an interior, the architecture of which takes its cue from the Porsche Carrera GT. The driver is now more closely integrated with the cockpit thanks to the centre console rising up to the front with the high-mounted shift lever or gear selector located close to the steering wheel. The instrument features a cluster with five round instruments – one of them a high resolution multifunction screen, the central rev counter and the ignition lock to the left of the steering wheel.
Fuel consumption and emissions are up to 16 per cent lower compared with its predecessor. This is achieved by systems and functions such as auto start/stop, thermal management, electrical system recuperation, the world's first seven-speed manual transmission and – in conjunction with the Porsche-Doppelkupplungsgetriebe (PDK) – sailing as it is called.
The 911 Carrera S with PDK manages to accelerate from nought to 100km/h in 4.3 seconds. Pressing the Sport Plus button on the optional Sport Chrono package cuts that to 4.1 seconds. The 911 Carrera with PDK needs only 4.6 seconds (Sport Plus 4.4 seconds) to sprint from a standing start to 100km/h.
The Porsche Dynamic Chassis Control (PDCC) active roll stabilisation system is available for the first time on the 911 Carrera S. The system reduces lateral inclination when cornering, the tyres always being in the optimal position relative to the road surface and able to transmit higher lateral forces. Maximum cornering speeds are increased; even faster lap times on racing circuits are possible.
The new Porsche 911 Carrera celebrates its world premiere at the 2011 IAA Frankfurt Motor Show. The launch of the new 911 models gets under way on 3 December 2011, the new cars can be ordered from September 1st. Prices in Germany are € 88,038 for the 911 Carrera and € 102,436 for the 911 Carrera S, including 19 per cent VAT and market-specific equipment.