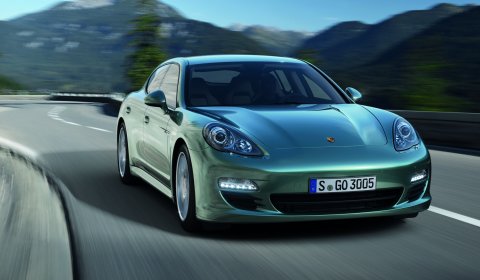 Porsche has officially released the Panamera Diesel. With a range in excess of 1,200 kilometres on an 80 liter tank, the new Panamera Diesel is an economical GT saloon. Thanks to its fuel consumption of only 6.3 liters per 100 kilometer, it is the first Porsche Gran Turismo with a six-cylinder diesel engine that can drive from Berlin to Bologna without refuelling.
The Panamera Diesel has three-litre V6 engine with a rated output of 250hp achieved between 3,800rpm and 4,400rpm. The maximum torque of 550Nm is available all the way from 1,750rpm to 2,750rpm. Linked to an eight-speed Tiptronic S, the six-cylinder turbo diesel powers the new Gran Turismo from a standing start to 100km/h in 6.8 seconds, with a top speed of 242km/h. The Panamera Diesel is exclusively available with rear-wheel drive.
Adaptive air suspension is available as an alternative to the standard steel spring suspension if so desired. The new model can be recognised by the lettering "diesel" on the front doors. The Panamera Diesel costs 80,183 euro in Germany including VAT and country-specific equipment and will be available for delivery from August 2011.