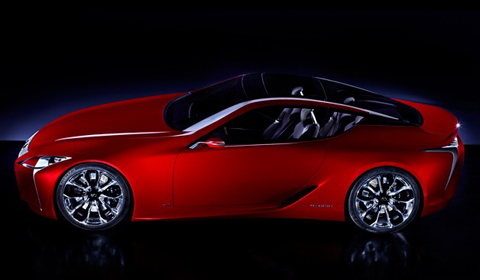 Following the accidentally uncovering of the LF-LC Concept, Lexus has released the first official image of the LF-LC 2+2 sport coupe which will be unveiled at the North American International Auto Show in Detroit on January 9, 2012.
Lexus released two teasers before in the run-up to the Detroit Auto Show. The first first teaser provided us a glimpse of the car's front end and the second teaser showed the interior.
The LF-LC is designed by Lexus's American design studio in Newport Beach — the same place where the Lexus SC430 was drawn — and will showcase the new design direction of the Japanese carmaker. Mark Templin, Lexus group vice president and general manager said:
Crafted from a clean sheet of paper at the request of Lexus headquarters in Japan, the LF-LC blends both high technology and organic shapes to connect the driver to the machine. The clean lines of the vehicle emphasize motion, creating a distinctive look for this futuristic sport coupe.
Lexus did not released any information regarding the LF-LC concept, but the 2+2 sport coupe features a "Hybrid" badge on the rear quarter panels. The Lexus will be positioned in between the current IS convertible and LFA super car and should rival high-end luxury coupes such as the BMW 6-Series and Mercedes-Benz SL-Class.
Unless someone screws up once again, more information will follow at the Detroit Motor Show.