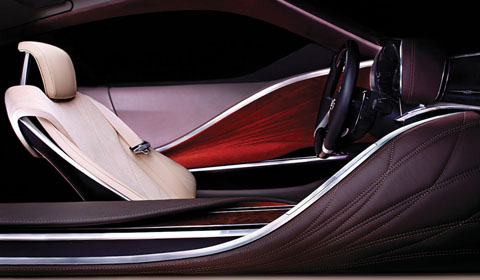 Lexus has released a second teaser of their latest concept car which will be unveiled at the North American International Auto Show in Detroit on January 9, 2012. The first teaser provided us a glimpse of the car's front end, the second pictures gives us a view of the inside.
The inviting interior features curving shapes, a lots of lavish wood and stitched leather in different colors. The center console appears to be quite impressive as well. The plunging roofline implies the car will be two-door coupé.
Designed by Lexus's American design studio in Newport Beach, the concept car will showcase the new design direction of the Japanese carmaker. It is rumored Lexus is developing two new high performance vehicles, one front- and the other rear-wheel drive, both of which are scheduled for 2014.
More news will follow, so stay tuned.