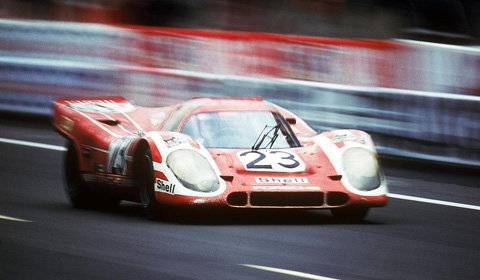 Held every year since 1923, the legendary 24-hour race at Le Mans draws an annual crowd of more than 200,000 spectators to the French region of La Sarthe. Around the world, this long-distance motor racing classic is viewed as one of the greatest challenges for man and machine.
The circuit on which the 24 Heures du Mans is run is named the Circuit de la Sarthe. This semi-permanent race track is partially made up of public roads and has a total length of 13.7km. With around 75 percent of the track spent full throttle and top speeds in excess of 340km/h, the fastest vehicles cover over 5,000km in the race — making it the ultimate test for men and machine.
Porsche is by far the most successful marque in the history of Le Mans. The German carmaker is the most successful manufacturer with a record 94 class wins and 16 overall victories — including seven in a row from 1981 to 1987 with the Porsche 956 and 962.
The company's last overall victory was in 1998 with the Porsche 911 GT1-98. But the Stuttgart based carmaker has announced they will return to Le Mans with a works-run LMP1 sports prototype. The first outing of the completely new developed race car is planned for the year 2014. Surely Porsche will settle for no less than their 17th overall victory.
Porsche has released a collection of videos showing their best memories from 60-plus years of motorsport heritage at Le Mans. Enjoy these beautiful videos!