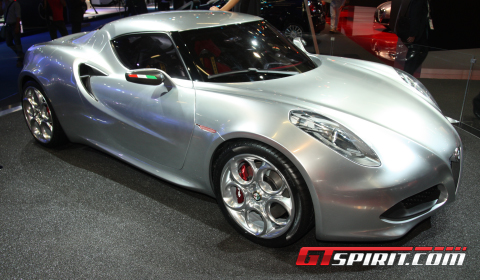 Reports are coming out of Alfa Romeo suggest that the Alfa Romeo 4C will be ready for production in 2013. This will follow a concept release mid 2012. The 4C will be the lower cost to Alfa Romeo's 8C supercar, costing just 45,000 euros (£ 38,000 at today's exchange rate).
The 4C will get a mid-mounted Alfa Romeo 1750 turbo engine. The 1742cc, four-cylinder, direct injection unit should produce around 230bhp. Combined with a 900kg kerb weight, the 4C should be able to hit 100km/h in just 4.5 seconds. Although the 1750 turbo engine is manufactured from cast iron at the moment, Alfa Romeo should start producing it in aluminium closer to the 2013 release date.
Unlike the 8C, the 4C will be a mass-market product. Alfa Romeo expects to sell 18,000 4Cs over the models life-span. Development of the sports car is being carried out in-house by a small specialist team.
[Via Autocar]