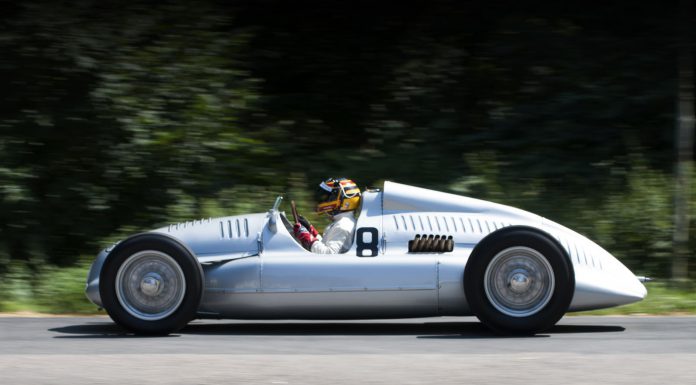 The Classic Days at Schloss Dyck recently celebrated its tenth anniversary as one of the largest classic car events in Germany. More than 30,000 people visited to the gardens and fields surrounding the 900-year old moated castle near Düsseldorf, where they were greeted by a great variety of classic cars.
One of the highlights was the Auto Union Type D, which together with Mercedes' Silver Arrows dominated Grand Prix racing in the 1930s. The V12-powered car was driven on the 2.8-kilometre long course by five-times Le Mans winner Frank Biela. In addition to the legendary racing car with its unpainted aluminium body, Audi also brought the V8 Quattro to Schloss Dyck. This car was driven by Hans-Joachim Stuck, who took the 1990 DTM title in the all-wheel drive racing sedan.
Another car which drew quite some attention was the recently restored Mercedes-Benz 540 K Stromlinienwagen. The streamlined Mercedes was designed to combine speed and comfort in the long-distance race from Berlin to Rome in 1938. Therefore it was equipped with a lightweight aluminium body based on the knowledge of aerodynamics of its day. But the car never made to it Rome as the race was postponed and eventually cancelled due to the war. Following a short stint as test car for tyre manufacturer Dunlop, the streamliner was eventually dismantled and left in pieces for decades. Rebuilding the car started two years ago and now has the Streamliner has been put back to its former glory.
Almost hidden in an air-conditioned narrow pavilion was the Bugatti Type 41 Royale, one of the most expensive cars ever made. It may have been good for the car, but it failed to give the public a decent view of this rare car. The Bugatti 50 T Weinberger Cabriolet provided a much better view, as it was almost casually parked. One of the few modern supercars allowed at the Classic Days was black Bugatti Veyron Grand Sport Vitesse, which surely impressed the people.
Alfa Romeo brought the pre-war 8C to the event, together with the Giulia Sprint GTA, the rare TZ1, and a modern-day 4C. A Lancia Stratos completed the Italian line-up. Among the other cars which made their appearance on track or were displayed in the gardens, were a Jaguar D-Type, various Mercedes 300SLs, Peugeot's Paris-Dakar winning 405 Turbo, and many more.
All in all the Classic Days at Schloss Dyck provided great value for money. Not only because of the cars but also because of the great atmosphere. Next year's edition is scheduled the first weekend of August, so those who love classic cars, write it down in your agenda!