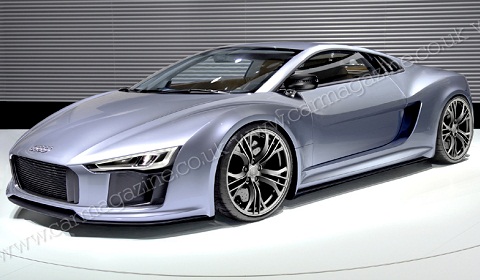 Car Magazine has published a rendering of what they think the 2014 replacement for the Audi R8 could look like. The R8 will receive a small facelift towards the end of 2012 and a complete replacement will be unveiled by the spring of 2014.
We're told that the facelifted R8 will arrive by the end of next year, however, it has previously been speculated that we could see this car as early as March next year, at Geneva. Improvements will be made to the chassis, power will be boosted to 540hp for the V10 model and a new seven-speed R-Tronic will debut. Expect this to be a single clutch unit produced by Graziano and based on the transmission from the Aventador.
The facelift will be minor but will feature a number of styling modifications to the lights and the bumpers. Expect just enough to keep the R8 fresh until its 2014 successor arrives.
As for the 2014 Audi R8, Audi are expected to develop an aluminium and carbon fiber platform. Carbon fiber will be used for the rear firewall, the transmission tunnel and the B-posts. Weight will be 100kg less and the body will be 13 percent stiffer. The V10 will get a 550hp figure, whilst the V8 will a 450hp power rating. Alternatively, Audi may choose to replace the V10 with the brand new turbocharged 4.0 liter V8 used in the new Bentley Continental GT V8 and the Audi S8. If so, expect around 600hp.
Styling-wise, the sideblades will disappear and Car Magazine believes the evolutionary effect on the second-generation R8 will be that the car becomes lower, wider and longer than the out-going R8.