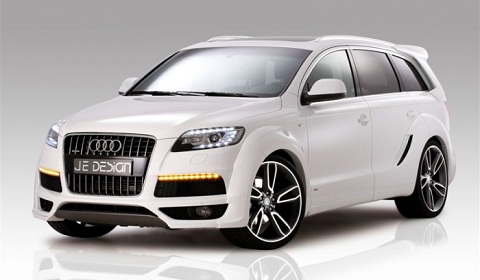 JE Design have updated their bodykit for the facelift Audi Q7 S-Line. The makeover includes a comprehensive, multipart wide-body kit, a suspension module and 22 inch alloy wheels.
The bodykit includes wheel arch extensions which widen the Audi by 30 millimeters per side at the front and 40 millimeters per side at the rear. Door trims, front-spoiler corners, a rear-apron extension and a roof wing with side covers above the C pillars are also part of the package. To finish it off, two JE Design double-tailpipe covers are also fitted, these are manufactured from highly polished stainless steel. The complete styling package, including tailpipe covers, is available from € 7,438.
JE Design have used single-part 10×22 inch SUV Select alloy wheel rims. The five-spoke designs are available in three different color schemes including matte black, matte silver or polished. They are fitted with 295/30 R22 tires. Alternatively, the new JE Design Scorpio wheel set is available in 10×22 inches. Both are available from € 5,190, with 30-millimeter-thick (front) and 40-millimeter-thick (rear) wheel spacers costing an extra € 409.
An electronic adjustment can be made to the Audi "adaptive air suspension" which lowers the chassis by around 35 millimeters. The function remains the same, you just get a more aggressive look. For this, expect to be charged €1,428.
A number of performance modifications involving ECU tuning can also be offered for the various engines of the model range. The complete kit is TÜV certified and therefore, easy to register on any vehicle.