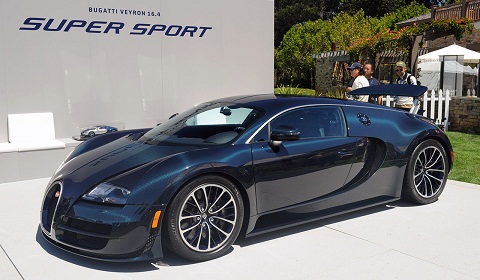 Yesterday, the Bugatti Veyron Super Sport made its public debut at the annual Quail Motorsports Gathering as part of the Monterey week. The car on display was different to the record-setting car and features a blue carbon fiber body with minimal chrome accents.
Autoblog.com managed to get a few pictures of the car which you can see by clicking through to their gallery.
To remind you of the Veyron Super Sport vitals, the hypercar boasts 1200hp, a top speed of 434km/h (269.8mph) and a sprint time from 0 to 100km/h (62mph) of just 2,5 seconds. 300km/h (186mph) is reached in 15 seconds. All production models will be electronically limited to 413km/h (257.9mph) to protect the tires.
The price of the new Veyron Super Sport is € 1.950.000 excluding taxes.