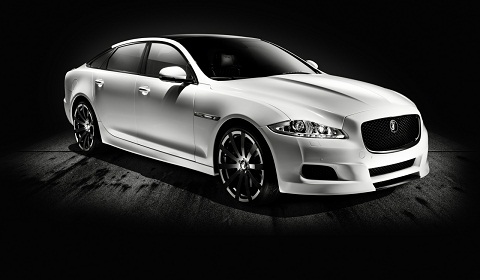 Alongside the 2011 Jaguar XKR175, Jaguar are also showing a one-of-a-kind XJ, the XJ75 Platinum Concept. It will be on display at the Pebble Beach Concept Car Lawn all weekend. The car highlights the customisation potential of Jaguars flagship limo whilst also celebrating the Companies 75th Anniversary in style and hints at the XJR.
Jaguar have added a new ground-hugging front, rear and side sills, giving the car an exclusive, sporty new look. A white and black contrast theme has also been applied, defining its platinum branding. The contrasting look extends to the bespoke 22 inch wheels and then into the interior too.
Inside you will find gloss pearlescent white air vents, veneers and diamond stitch suede inserts to the seats and headliner; all this against the backdrop of a full Jet Softgrain leather interior provides an opulance far beyond that of the standard car. Another feature is the Bremont bespoke clock. Hand assembled in Switzerland, the inclusion of the clock adds yet another unique element to the car.
The XJ75 is essentially a 2011 Jaguar XJL Supercharged featuring 470bhp and 424lb-ft of torque. There are no plans to release a limited edition run at the moment. The car is to be seen as a concept only, designed to show what Jaguar can offer customers looking for that little bit extra.