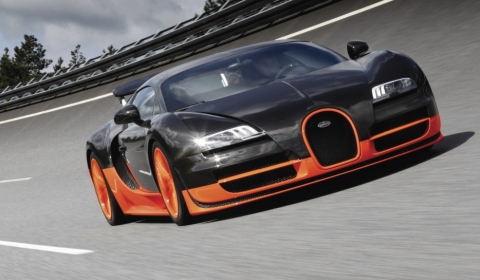 It is official! The new Bugatti Veyron Super Sport is heading our way. Limited to only 40 pieces, the latest edition of the hypercar boosts 1200hp, a top speed of 434km/h (269.8mph) and a sprint time from 0 to 100km/h (62mph) of just 2,5 seconds. 300km/h (186mph) is reached in 15 seconds.
The manufacturer sent test driver Pierre Henri Raphanel out onto Volkswagen's Ehra-Lessian high-speed oval with the first Super Sport. Representatives of the Guinness book of records and German Technical Inspection Agency (TÜV) saw Raphanel achieve the unthinkable.
The vehicle got a destinctive new body setup and trim colour called the Bugatti World Record Edition. The first five production Super Sport will have the same black and orange finish as shown on the record-breaking car. All production models will be electronically limited to 413km/h (257.9mph) to protect the tires.
The price of the new Veyron Super Sport is € 1.950.000 excluding taxes.
It is unknown if a Grand Sport Super Sport Edition will hit the roads. The Super Sport will make its official debut at Pebble Beach in August.