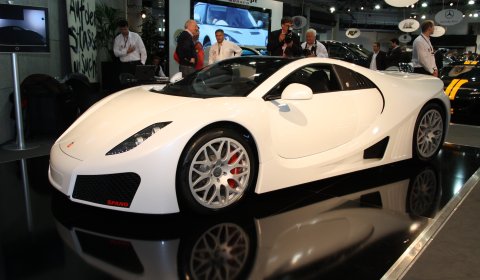 The Spanish car maker GTA Motors has displayed its Spano at Top Marques Monaco 2010. It is the first time the sports car is shown at an event worldwide. The 'super sportive car of every day use' was introduced in Valencia last year and has found its way to ten owners over the past few months.
A limited amount of 99 will be produced of which 49 production spots are still open. A roadster and race version are planned after the coupé has been 'sold out'.
The 800bhp Spano on the pictures has a brand new interior and white paint job. The vehicle has a top speed of 350km/h and does 0-100km/h (62mph) in less than three seconds.