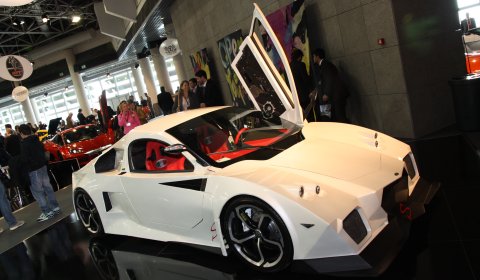 The Tirrito Ayrton S is one of the most 'special' designs are the Top Marques 2010 show. The Italian sports car is completely hand-build, only the wheels and engine are stock. The setup weighing 1120kg has a carbon fiber body work and is available in three variants; R, S and T.
The heritage of Ayrton Senna is basis for the design and the concept. The owner Tirrito Andrea told the race legend as a kid in 1992 that he would build a sports car using his name. The Tirrito Aryton S is the outcome of that dream.
The BMW M5 engine produces 627hp at 8250rpm and 601Nm of torque at the same rpm. The vehicle is production-ready and will be hand build in Turin, Italy. It is limited to 50 pieces at a price of € 352,400.
Tirrito is working on a limited edition version. This five piece Aryton Senna Edition is currently under consideration with the Ayrton Senna foundation. More info will follow at a later stage.