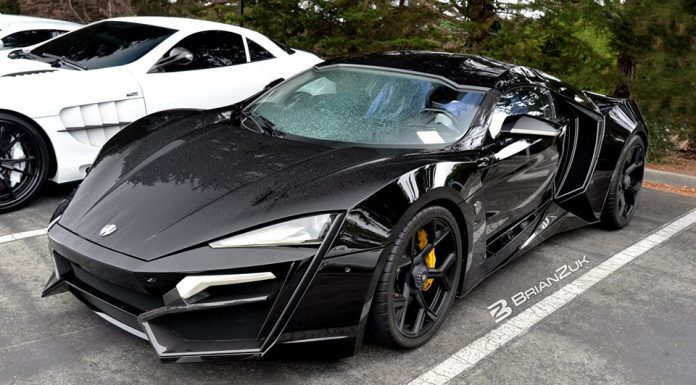 One of the seven models of the Lykan Hypersport has arrived in the United States to take part in the ongoing Monterey Car Week 2015 being held in California. The hypercar has black exterior paint with black wheels and yellow brake calipers.
The Lykan Hypersport has been produced by Dubai-based W Motors and is the Middle East's first supercar. It was revealed at the Qatar Motor Show in 2013 as a prototype and the hypercar's official debut took place in Dubai later that year. The Hypersport costs an astronomical US$ 3.4 million, making it the fourth most expensive car to have been produced after the Lamborghini Veneno ($4.6 million), Veneno Roadster ($5.3 million) and the Maybach Exelero ($ 8 million).
Since its launch, the Lykan Hypersport has been showcased at a plethora of car events and it came into public domain after featuring in the Furious 7 movie. It is powered by a 3.8-litre twin-turbocharged flat-six engine capable of producing 770 hp (552 kW) and 960 Nm of torque. The power is transferred to the rear wheels of the car via a 6-speed sequential or a 7-speed PDK gearbox. It can reach 0 to 100 km/h in 2.8 seconds with a top-speed of 385 km/h.
The Hypersport owners get 24-hour concierge service and some interesting features of the car include diamond-encrusted LED headlamps, a futuristic ID4 motion dashboard and seats built around a carbon-fibre body with gold wire stitching.
[Via BrianZuk]