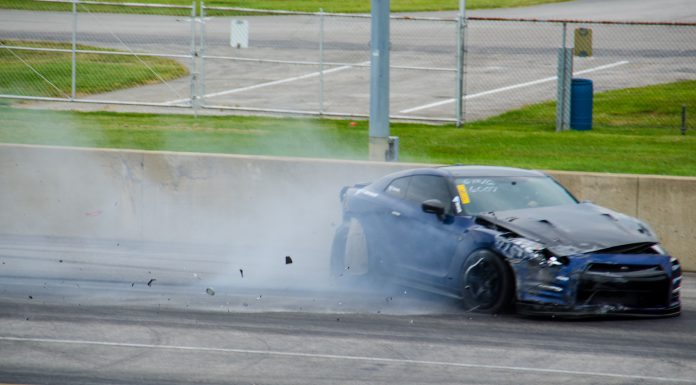 An incredible AMS Performance Alpha 20 Nissan GT-R has been badly damaged after crashing during the DSM Shootout 2015 drag races in Ohio.
This particular GT-R has held the title for the fastest customer R35 in the world for quite some time now. On this blistering run however, an oil line broke sending the Japanese sports car across the drag strip and into the wall at high speed.
Thankfully, the driver who happens to be Gidi Chamdi managed to walk away unharmed but the same cannot be said about the modified GT-R.
[youtube]https://www.youtube.com/watch?v=MpfiZgRMUh4[/youtube]
Extensive damage has been sustained to the front-end with the bonnet, bumper, wheels and quarter panels completely trashed. Following the initial impact with the front end, the GT-R span and made contact with the concrete crash barrier on its side and from behind.
While the extent of the mechanical damage isn't known, it will inevitably be quite a costly repair. Gidi plans to make a final decision once the damage has been completely assessed by his team. Nonetheless, his white Alpha 12 will be acquiring the top end Alpha 20 package as it prepares to replace its unfortunate brother. You can have a look at his 2000hp+ UGR Gallardo and a Lamborghini Huracan here.