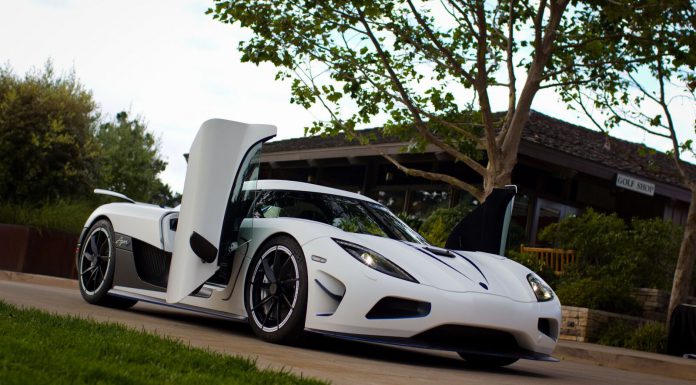 The biggest motoring festival in North America is upon us – the Monterey Car Week 2015 which kicks off today till Sunday. This is the ultimate week to experience a plethora of new cars, supercars, classic cars, concept cars as well as motorsport. As always, GTspirit will cover the full festival which is further divided into various events distributed evenly across the week. In addition, we will be bringing you live updates via this live blog right here!
Before we get started, lets take a look at what the Monterey Car Week 2015 has in store for us. Don't forget to follow our social media channels for more live actions especially Instagram and Twitter! We will be using the hashtag #CarWeek2015 as well as #MontereyCarWeek.
New Car Debuts
The following cars will debut at the Monterey Car Week 2015.
Lamborghini Aventador SV Roadster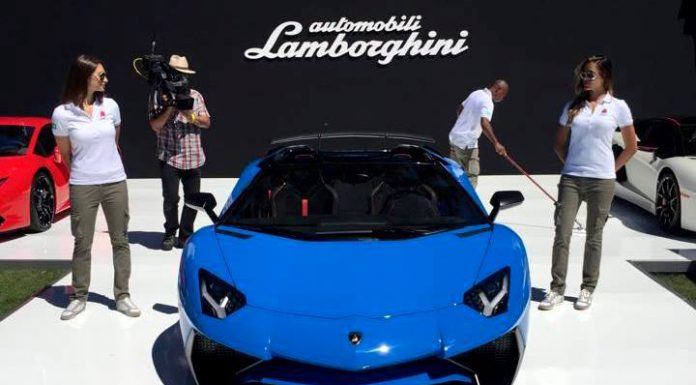 Lamborghini will debut the roadster version of the 2016 Lamborghini Aventador SV Coupe whose deliveries just began recently. Notably, this will be the first roadster from Lamborghini to wear the SV moniker.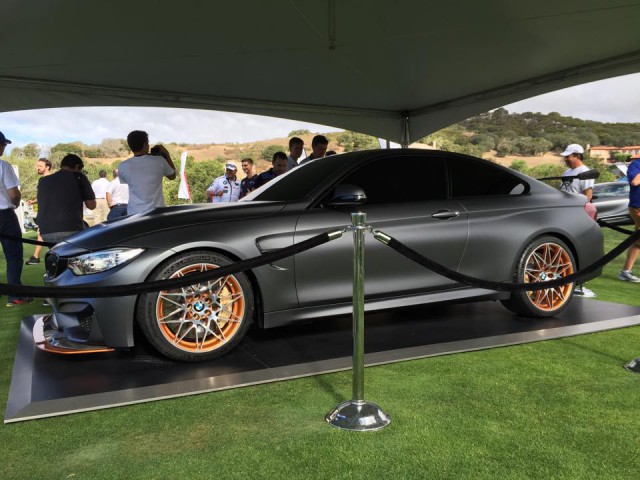 A hardcore version of the BMW M4, the M4 GTS is expected to debut at Monterey Car Week. Just like the previous BMW M3 GTS, this variant is expected to be lighter than the normal M4. Visual differences will include a rear wing, rollcage and absence of rear seats. In addition to the M4 GTS, BMW will also bring along the BMW 3.0 CSL Hommage Concept that debuted at Villa d'Este 2015 not to mention a couple of the legendary BMW M3 GTRs!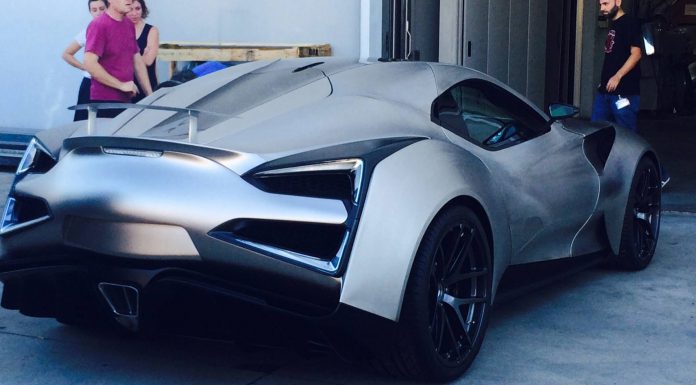 An updated version of the Icona Vulcano will be shown at Monterey Car Week 2015. This version will utilize carbon-titanium extensively making it much lighter than the current version. Most importantly, the older engine has been swapped for a new 6.2 liter GM V8 lifted from the Corvette C6 ZR1.
Others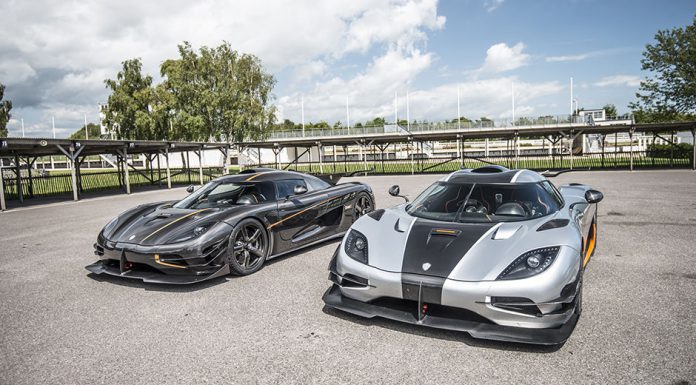 Michelin plans to rock Car Week across all categories with extremely rare road cars and the most coveted racecars. The tire manufacturer will host the Koenigsegg One:1 in their booth which will headline the hypercar display at the Rolex Monterey Motorsports Reunion. The One:1 will be joined by the 1895 L'Eclair racecar built by Peugeot and Michelin – the first car to use pneumatic tires.
At the Porsche Week Reunion, Michelin will display the Porsche 911 GT1, GT2, GT3 and the Cayman GT4. At the Legends of The Autobahn, Michelin will display a BMW Alpina B6 Gran Coupe, an Audi R8 and a Mercedes-AMG GT S.
Elsewhere, Aston Martin will bring the Vulcan to North America for the second time, it will be joined by the new DB9 GT as well as the Lagonda Taraf. The newly facelifted Bentley Continental GT will make its public debut in North America at Monterey Car Week 2015, it will be joined by the Bentley EXP10 Speed 6.
Auctions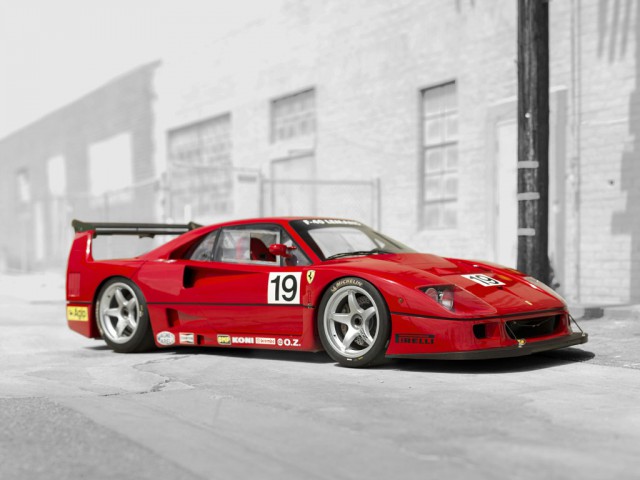 There will be a number of auctions taking place namely the RM Sotheby's, Mecum Auctions, JR Auctions, Russo and Steele's auctions, Bonhams auctions and Rick Cole's auctions. We have previously previewed the highly anticipated Pinnacle Portfolio that will be offered by RM Sotheby's, be sure to check our dedicated post detailing the entire RM Sotheby's collection.
Events Schedule
Like i mentioned in the beginning, the Monterey Car Week is filled with numerous car events that cover nearly all the available car tastes. Each day has a set of events that showcase different cars or host a different car activity. Here is a list highlighting the major events planned for each day. To see the complete detailed schedule please visit the official Monterey Car Week website.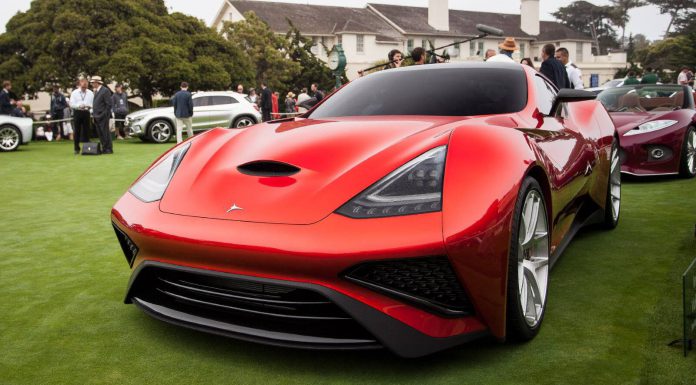 Tuesday
Concours on the Avenue
Monterey Auto Luxe
Wednesday
Monterey Car Week Rally
The Little Car Show
Thursday
Pebble Beach Tour d'Elegance Presented by Rolex
RM Auction
Italian Stampede
Friday
Exotics on Cannery Row
RM Auction
Legends of the Autobahn
The Quail
Saturday
Concorso Italiano
Concours d'LeMons Monterey
RM Auction
Sunday
Pebble Beach Concours d'Elegance
Live Blog
Update: Saturday, 15th August 2015 – Overview of Friday
So, the Legends of the Autobahn went down and so did The Quail – let's now look at some of the highlights from Friday. RM Sotheby's proceeded with their auction and sold quite a number of cars. Headlining their sale today was a 1950 Ferrari 275S/340 America Barchetta that hammered for a staggering $7.97 million! The Quail had a fair share of supercars and so did Exotics at Cannery Row. Acura brought three NSXs in Nouvelle Blue Pearl, Valencia Red Pearl and Berlina Black.
For today, there is an exciting lineup of activities soon as the first light shoots up. Starting with Concorso Italiano, Concours d'LeMons Monterey and RM Auction.
Update: Friday, 14th August 2015 – Supercars and More Supercars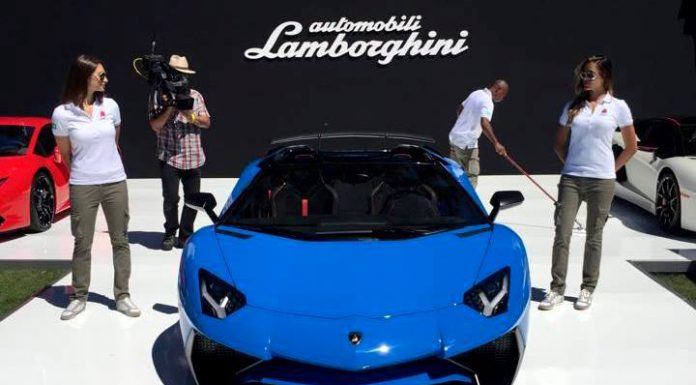 The new Lamborghini Aventador SV Roadster has finally been unveiled at Monterey Car Week 2015 and it looks gorgeous in blue! There is a plethora of supercars here with Ferrari leading the pack – most models having taken part in the Ferrari Rally to Pebble Beach. Aston Martin has displayed the Lagonda Taraf while Bentley Motors is showing the new Bentley EXP10 Speed 6. Salomondrin's Liberty Walk Hellcat is also in the mix! Enjoy the live photos!
Update: Friday, 14th August 2015 – Legends of the Autobahn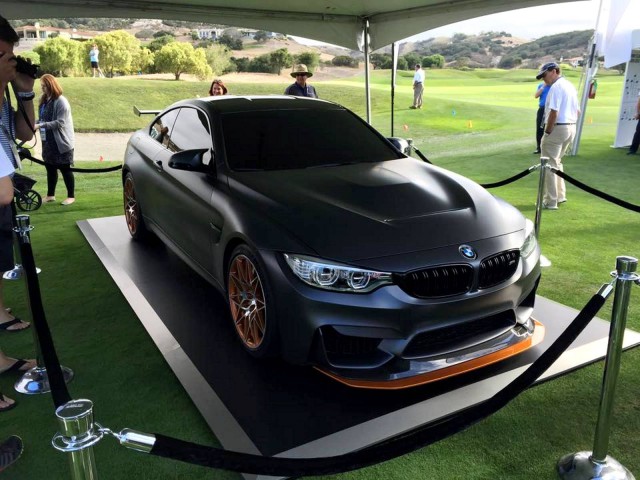 Its a super show powered by Michelin and showcasing the best there is from Germany. Lots of BMW, Audi and Mercedes. Our focus is on BMW who have a rather tastier collection on the green lawns led by the new BMW M4 GTS Concept. There is also a 2016 Alpina B6 Bi-Turbo Gran Coupe, a BMW M3 GTR, a BMW Z4 GTLM with the classic CSL livery and several other historic BMW models. Check out the photos below courtesy of BMW Car Club of America.
Update: Friday, 14th August 2015 – McLaren Show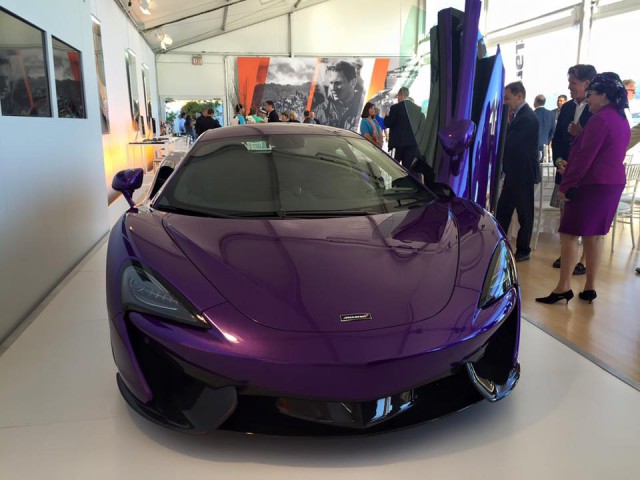 Highlighting the McLaren cars at Monterey Car Week 2015 is the new McLaren 570S by MSO, finished in a shade of purple. Other cars include a bright orange McLaren 650S Le Mans edition – one of just 50 built and just a handful of them on US soil. Check out the photos below courtesy of McLaren Newport Beach.
Update: Friday, 14th August 2015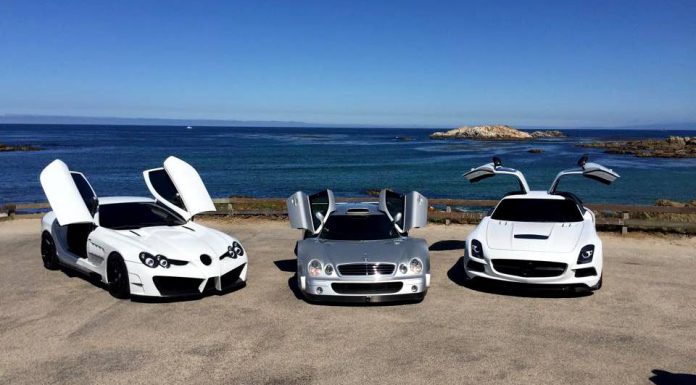 Thursday was truly epic, with more supercars showing up as well as shooting in one of the most beautiful locations in California. We managed to do a photoshoot of the Mercedes-Benz SLR, CLK GTR and SLS AMG together – quite astounding! For now you will have to cling on our mobile shots as we work on the complete set from the photoshoot. Other cars today included the Jaguar XJ 220, several Porsche 918 Spyders and two Carrera GTs.
Update: Thursday, 13th August 2015 – And some more…
Here are some more photos from up and about including the Pinnacle Portfolio. Some of the rare cars include the Mercedes-Benz CLK GTR as well as the FINA McLaren F1 GTR. Enjoy the photos!
Update: Thursday, 13th August 2015 – RM Sotheby's Pininacle Portfolio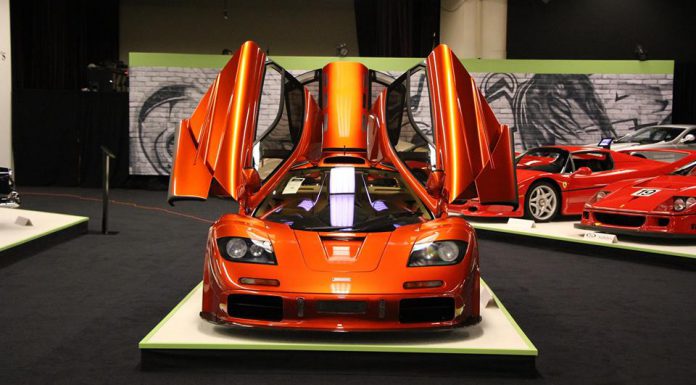 RM Sotheby's previewed their highly anticipated Pinnacle Portfolio. The cars included the volcano orange McLaren F1 with LM upgrade. The others included a Ferrari F40 LM, Ferrari 288 GTO, a Maserati MC12, Ferrari 260 LM and the Ferrari 250 SWB just to name a few. Check out their photos in the gallery below.
Update: Thursday, 13th August 2015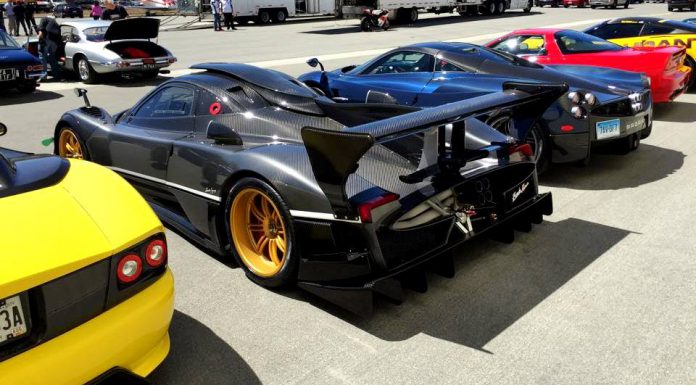 The rhythm of Monterey Car Week and Pebble Beach is flowing on strongly with all roads leading to various events and rallies. RM Sotheby's previewed their Pinnacle Portfolio live and so did the Gooding and Company auction house. There were several other events on the streets of California but for now enjoy these live shots.
Update Wednesday, 12th August 2015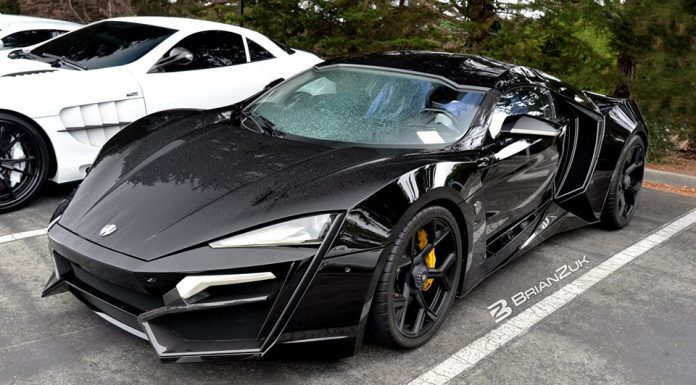 Let's look at a few photos posted on social media by various photographers. There is so much activity going on including the Ferrari Rally, Pagani Rally and the Exotics on Canary Row. There is also a black Lykan Hypersport in this years Monterey Car Week, which was lined up next to a rare Mercedes-Benz CLK GTR.
Credits: Axion23 Photos, BrianZuk, CarNinja,
Update 10:19 AM: Ferrari Rally to Pebble Beach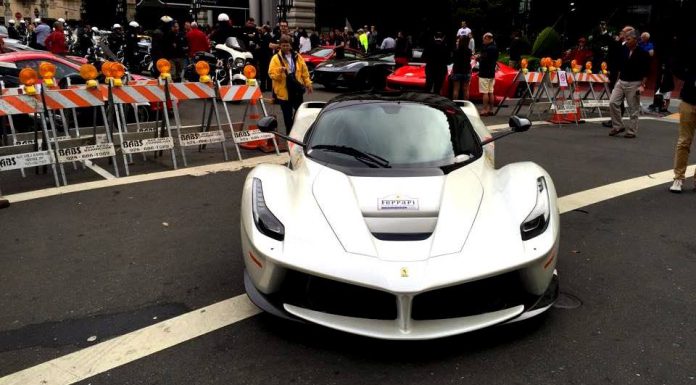 The Ferrari Rally to Pebble Beach is on. Here are a few live photos from the streets where several Ferrari LaFerraris are lined up.