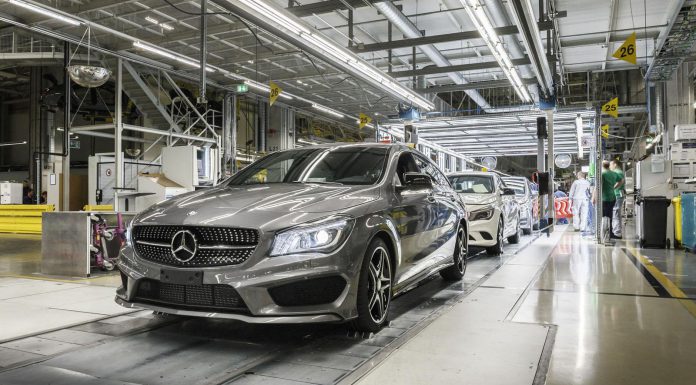 Production of the 2015 Mercedes-Benz CLA Shooting Brake has just kicked off at the German firm's Kecskemet production facility. With production of the CLA Shooting Brake starting, the Kecskemet plant now products three different Mercedes-Benz models including the B-Class and regular CLA sedan.
Discussing the start of Mercedes-Benz CLA Shooting Brake production, member of the divisional board of Mercedes-Benz Cars, Markus Schafer said, "The start of production of the new CLA Shooting Brake marks the fifth successful ramp-up for our new generation of compact cars in our global production network.
"The team in Kecskemét has proven that 'made by Mercedes-Benz in Kecskemét' is a true success story. From the very start, we have been making top-quality cars in accordance with our global production standards," Schafer said.
From a styling perspective, the Mercedes-Benz CLA Shooting Brake features a very similar roofline to the CLS Shooting Brake. At the front, everything looks like the 'regular' CLA while at the rear, the roofline has been extended and now meets a steeply raked rear window. The new body style has added 25 litres of additional boot space to the CLA at 495 litres. That rises to 1354 litres when the rear seats are folded down.
At launch, there are four different trim levels for the 2015 Mercedes-Benz CLA Shooting Brake. These are the Sport, AMG Sport, Engineered by AMG and AMG. Additionally, a special edition model dubbed the Orange Art has been launched.
The range-topping model is of course the Mercedes-Benz CLA45 AMG Shooting Brake. It uses the same 2.0-litre turbocharged four-cylinder engine as the A45 AMG, CLA45 AMG sedan and GLA45 AMG delivering 355 hp and 332 lb-ft of torque.