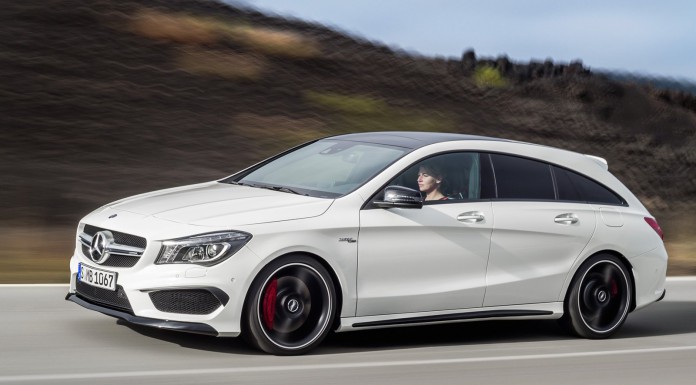 After months of spyshots, the 2015 Mercedes-Benz CLA Shooting Brake has been officially revealed. Available with the same selection of engines and variants as the CLA sedan, the Shooting Brake adds extra practicality to the entry-level Mercedes-Benz family car.
From a styling perspective, the Mercedes-Benz CLA Shooting Brake features a very similar roofline to the CLS Shooting Brake. At the front, everything looks like the 'regular' CLA while at the rear, the roofline has been extended and now meets a steeply raked rear window. The new body style has added 25 litres of additional boot space to the CLA at 495 litres. That rises to 1354 litres when the rear seats are folded down.
At launch, there are four different trim levels for the 2015 Mercedes-Benz CLA Shooting Brake. These are the Sport, AMG Sport, Engineered by AMG and AMG. Additionally, a special edition model dubbed the Orange Art has been launched.
Bringing up the rear of the CLA Shooting Brake range is the ultra-efficient CLA200 CDI Shooting Brake which returns an impressive 72.4 mpg and CO2 emissions of just 101 g/km. Additionally, the CLA200 CDI 4Matic and CLA220 CDI 4Matic are available alongside the CLA250 Shooting Brake complete with the 4Matic transmission set to arrive solely as Engineered by AMG specification.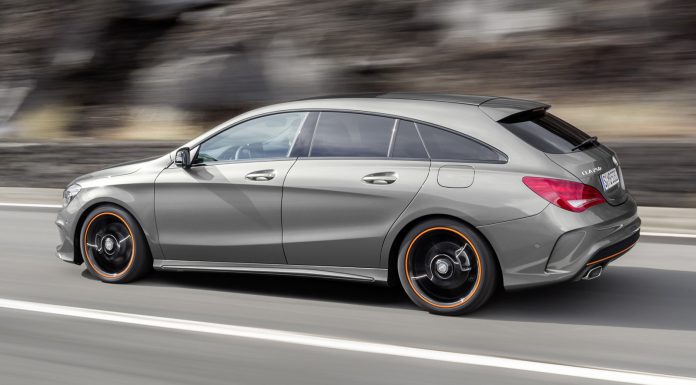 The range-topping model is the 2015 Mercedes-Benz CLA45 AMG Shooting Brake. It uses the same 2.0-litre turbocharged four-cylinder engine as the A45 AMG, CLA45 AMG sedan and GLA45 AMG delivering 355 hp and 332 lb-ft of torque. Consequently, the CLA45 AMG Shooting Brake will rocket to 100 km/h in a mere 4.7 seconds as well as an electronically limited top speed of 250 km/h. It will debut at the Geneva Motor Show 2015 in March.