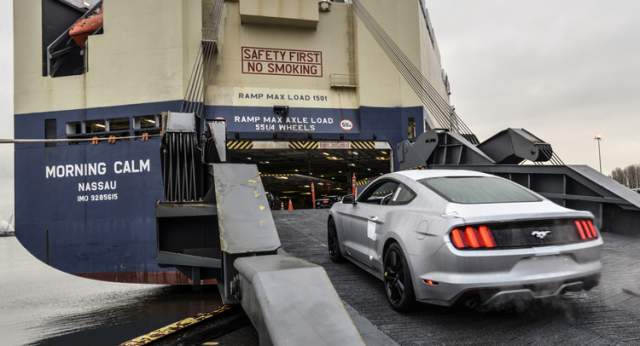 Asia Pacific shipments of the 2015 Ford Mustang have just commenced as the sixth-generation Mustang becomes the first globally-available iteration of the American muscle car.
The 2015 Ford Mustang will be available in 100 markets worldwide and with this, be made in both left and right-hand drive from the factory for the very first time. Ford's decision to make the Mustang available in RHD will open the car up to 25 markets around the world including South Africa and Australia.
Discussing the start of international Mustang shipments, director of the Ford Trading Company, Gerald Schoenle said, "Preparing these vehicles for shipment to their final destination is critical to satisfying both customer and regulatory requirements for our markets around the world."
[youtube]https://www.youtube.com/watch?v=hNc3r85v2ZQ[/youtube]
As a reminder, three engines for the latest Ford Mustang are available in the U.S. but only two of those are available in Europe. Those are the mid-range 2.3-litre four-cylinder turbocharged EcoBoost engine delivering a total of 314 hp and 433 Nm of torque and the 5.0-litre V8 which pumps out 412 hp. It remains to be seen which engines will be available across Asia Pacific.