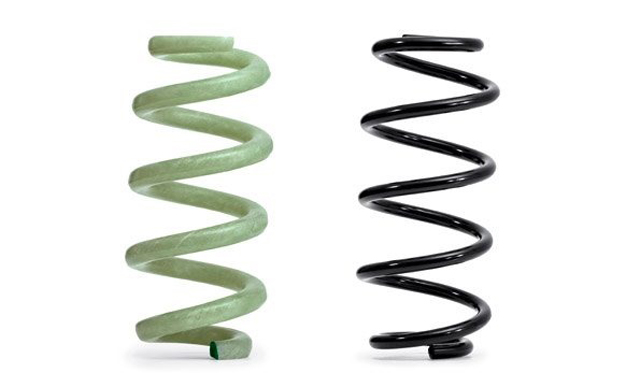 If you've been paying attention closely to the car industry in recent times, you would have noticed a gradual shift from the horsepower wars for high-end firms and models and instead a focus on improving the power to weight ratios of cars. With carbon fibre continually decreasing in cost, cars like the Alfa Romeo 4C are leading the charge.
In an effort to help reduce the weight of its models in the future, Audi has just revealed its new composite springs which not only promise reduced weight, but provide better performance than more traditional steel springs.
Made from glass-fibre reinforced polymer (GFRP), Audi hopes to bring its new springs into production by the end of the year. Typically, an Audi steel spring will weigh 2.7 kg. However, the new GFRP springs weigh significantly less at 1.6 kg and therefore help reduce the unsprung mass of the vehicle while shaving off 4.4 kg from the car's total weight.
Alongside the weight saving, the GFRP springs operate with fewer vibrations, are smoother and can also improve a car's dynamics. The new springs are made from glass fibres which are twisted together with epoxy resin. They are then baked in a similar vein to carbon fibres before the final product is created.