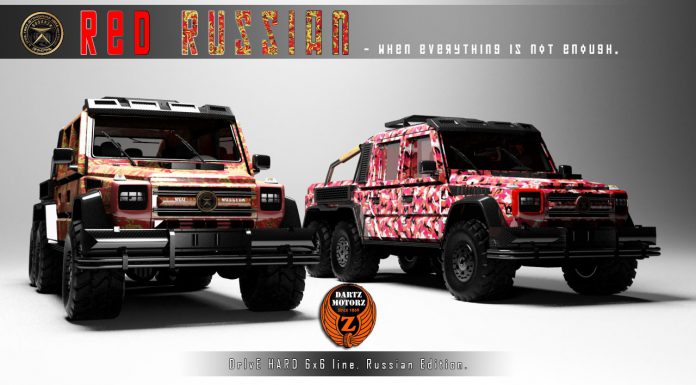 Not long after unveiling the insane Dartz Drive Hard G63 AMG 6×6, the insane company have previewed their latest upgrade for the six-wheeled Mercedes-Benz. Dubbed the 'Red Russian', the car is absolutely insane in every definition of the word.
Despite Dartz Motorz actually being a Latvian company, the Red Russian takes a nod at Russia's communist past complete with the outlandish red and white camouflage paint job. Beyond the paint, the Dartz Red Russian includes a new front fascia with special headlight covers as well as a more prominent front bumper and flared wheel arches. The inclusion of the new bumpers give the Dartz Red Russian 6×6 a real military feel and that is exactly what the company was going for.
However, while the exterior is made to be in-your-face, outlandish and head turning, the interior is reportedly very subtle and luxurious. Pictures or renderings of the cabin haven't been released but it reportedly features special leather sourced from the same company which supplies leather to Ferrari and Bentley. What's more, the Dartz Red Russian has floor coverings made from shark leather and comes standard with a selection of custom paint baseball bats for that extra sense of thuggery.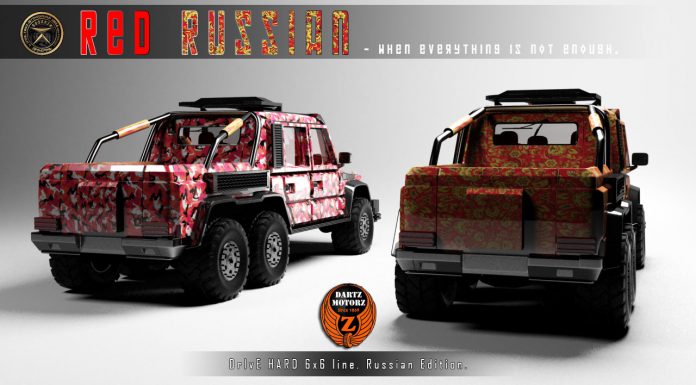 Further down the road, Dartz has promised to release modified variants of the G-Class, GL, GLK and the GLA.