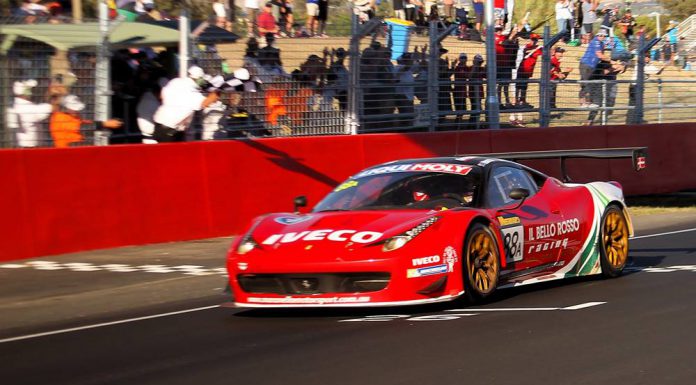 The 2014 Bathurst 12 Hours took place in Australia this weekend at the Mount Panorama Circuit. Ferrari took the win with a thrilling finish in what was a side-by-side race to the finish line against a Mercedes-Benz SLS AMG GT3 belonging to HTP Motorsports. The team of Craig Lowndes, Peter Edwards, John Bowe and Mika Salo in the Ferrari 458 GT3 won the race by 0.4 seconds ahead of the SLS AMG GT3 driven by Maximilian Buhk.
Lowndes has 5 Bathurst 1000 trophies already on top of the 2014 Bathurst 12-Hour trophy he won today. The HTP Motorsports crew who came in second showed an impressive performance especially from the young driver Buhk. Third in this Class A was also another Mercedes-Benz SLS AMG GT of Erebus Motorsports. They fought back several laps to the top after suffering damage due to a contact. The damage resulted in the car being faster on the straights and slower at the tops which was considered an advantage.
The fastest car on the track was the McLaren 12C GT3, the No. 37 of Darrell Lea which was among the possible winners of the race, but a last minute dash for fuel saw them lose hopes of any podium finish; they finished fourth. Phoenix racing finished fifth in their Audi R8 LMS Ultra, there were a few other finishes in Class A before the first in Class B which happened to be Grove Group in their Porsche 997 GT3 Cup, the class was dominated by several other Porsche 997 GT3 cup racers.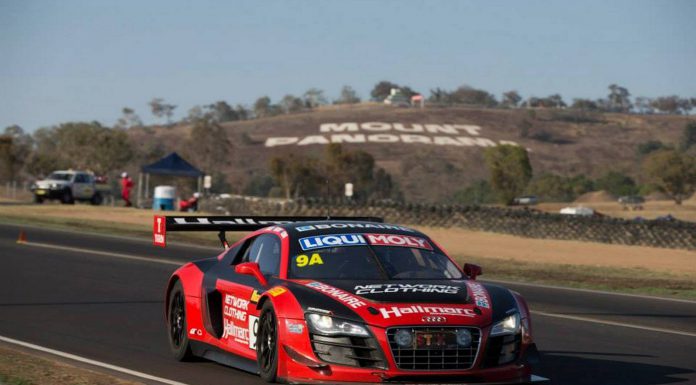 Marc Cars finished first in Class I in their Ford Focus GTC while GT Radial took the first position in Class D in their Seat Leon Supercopa, Class F went to the Fiat Abarth Motorsport team in their Fiat Abarth 500.
Quotes:
Craig Lowndes– Maranello Motorsport Ferrari 458 GT3
Thirty minutes to go in the race and we had about a 25s lead over the McLaren, it was closing fast, it must have been having problems. Then the Mercedes closed the gap really quick, the safety car came out and it diminished any gap we would have had. I knew the Merc was always going to be quick in a straight line, and these guys have been telling me all week the Ferrari is generally quick across the top and that is a section I really enjoy. I had to push hard to get a gap, to get a car and half for a bit of a buffer zone. I didn't know if it was going to be enough.
Maximilian Buhk – Mercedes Benz SLS AMG
I was not happy when the SC deployed, I thought it would be a Sunday afternoon drive to the end. I saw Craig in front of me, then I was really focused to have some good laps to chase him, it was working quite well. I am very pleased with the weekend.
[youtube]http://youtu.be/IiaTIJcTzSM[/youtube]