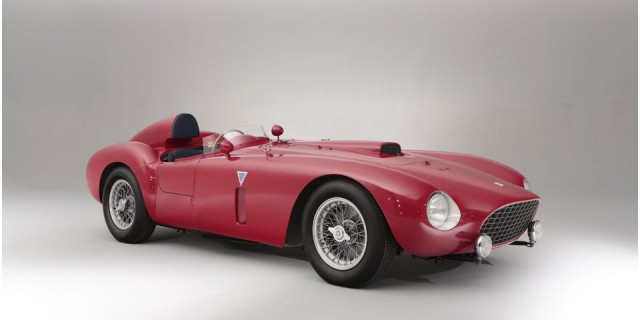 An incredible Ferrari 375-Plus created for the 1954 Sports Car Championship is set to be auctioned off by Bonhams at this year's Goodwood Festival of Speed. At last year's Goodwood Festival of Speed, Bonhams sold a Mercedes-Benz W196 driven by Juan Manuel Fangio for an incredible $29.5 million. This made it the highest price ever paid for a car at a public auction.
Powered by a 4.9-liter V12 engine delivering an impressive 330 hp, the Ferrari 375-Plus was only driven by the most skilled racing drivers of the time entrusted by the Scuderia Ferrari works racing team. Two of the most notable driver's to have piloted this particular Ferrari 375-Plus include Argentinian Jose Froilan Gonzalez as well as Italian long distance road racer Umberto Maglioli.
Other Ferrari 375-Pluses managed to take victories at Le Mans and Silverstone while also coming out victorious on the five-day Carrera PanAmericana road race through Mexico. During the course of this five-day event, Maglioli averaged an incredible 173 km/h!
This particular 375-Plus was driven by Maglioli at the Mille Miglia in 1954 and also driven by Froilan Gonzalez at Silverstone. Its last race was at the 1954 Le Mans 24 Hours. Despite being retired from racing in Europe, this Ferrari 375-Plus continued competing in the U.S. and raced at Watkins Glen, Nassau and Sebring and also the 1957 Cuban Grand Prix.
When discussing the upcoming auction, Bonhams head of motor cars for mainland Europe, Philip Kantor said, "We are honored to have been chosen to sell this wonderful car, which represents a key early stage in the Ferrari racing legend. It is very rare indeed for a Ferrari team works car with continuous history and undisputed identity to come to the market for sale by public auction. We believe it will attract interest from all over the world."