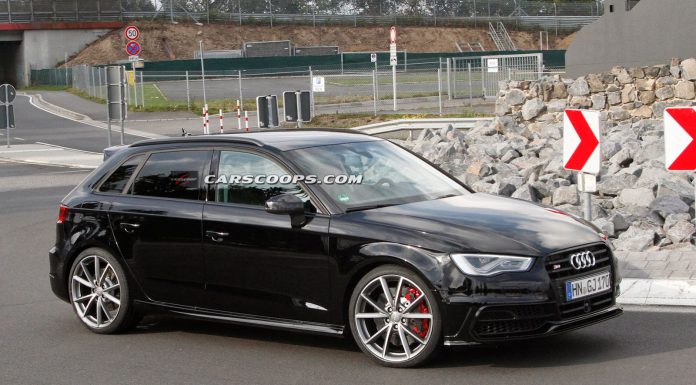 With Mercedes-Benz seriously lifting their game with this year's release of the Mercedes-Benz A45 AMG, rival Audi, has been left somewhat behind. As it stands the most powerful A3-series vehicle produced by Audi is the S3 which deliveries just under 300hp compared to the 360hp of the A45 AMG.
However, a prototype of what's believed to be the 2015 Audi RS3 Sportback was recently spotted testing wearing no camouflage and inevitably featuring a more powerful engine. While details about the next-gen Audi RS3 Sportback are limited, it's inevitable to be produced as a rival for the Mercedes-Benz A45 AMG and should consequently receive some hefty performance upgrades.
One likely engine is the 2.5-liter five-cylinder turbocharged powerplant from the Audi TT RS Plus. That car delivers a potent 355hp and 342lb-ft of torque thus making for the perfect outputs to rival the A45 AMG.
In addition to likely featuring a more powerful engine, this 2015 Audi RS3 Sportback prototype was fitted with larger cross-drilled discs as well as additional front air intakes.
It's not yet known when the latest Audi RS3 Sportback will debut, but if it does indeed become a 2015 model year vehicle, then a debut early next year is likely, possible at the Geneva Motor Show 2014.
[Via Carscoops]