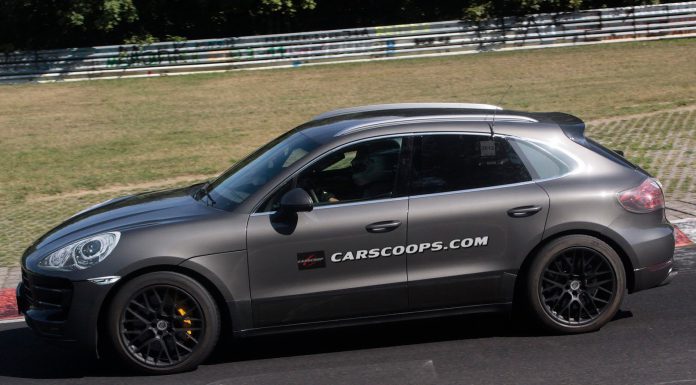 The upcoming Porsche Macan Turbo has been spotted undergoing testing at the Nurburgring with nothing more than some minimal headlight and taillight camouflage. As expected, it looks like a mini Porsche Cayenne.
Separating the 2015 Porsche Macan Turbo from the regular Porsche Macan is its lower profile, redesigned and far more aggressive front bumper as well as quad exhaust pipes at the rear. Additionally, the 2015 Porsche Macan Turbo can be seen riding on brand new sport alloy wheels. Despite its 'Turbo' nameplate, the 2015 Porsche Macan Turbo won't produce anywhere near as much power as the Porsche Cayenne Turbo or the Porsche 911 Turbo.
Instead, powering the 2015 Porsche Macan Turbo is expected to be a twin-turbocharged 3.0-liter V6 engine found in the 2014 Porsche Panamera S. In Panamera S guise, this powerplant produces 420hp but that's expected to be detuned to around 370hp for the Macan Turbo. As with the Porsche 911, Porsche Cayenne and Porsche Panamera line-ups, a Porsche Macan Turbo S variant is the expected further down the road.
By comparison, the standard Porsche Macan will be available with a selection of different engines. the base model will come with a 220hp-strong 2.0 liter TFSI engine, followed by a 295hp-strong 3.6 liter V6. The diesel engines will respectively produce 190hp and 250hp.
The 2015 Porsche Macan Turbo is set to be released at the Los Angeles Auto Show 2013 in November!
[Via Carscoops]