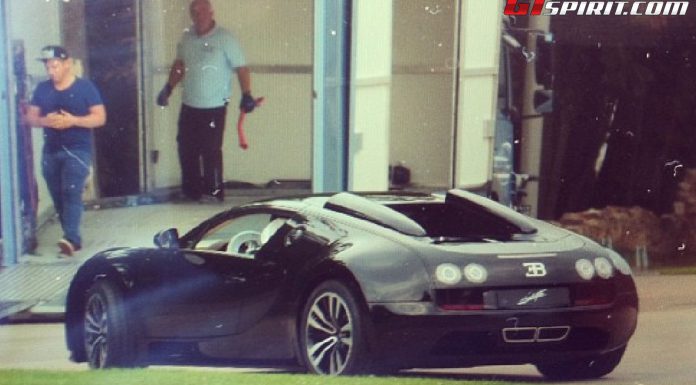 Following Bugatti's official teaser of the second of six special Les Légendes de Bugatti edition Veyron Grand Sports, we received exclusive images and photos of this Légendes de Bugatti edition #2. The Bugatti Veyron Grand Sport Vitesse that Bugatti will show at the Frankfurt Motor Show 2013 is honoring Jean Bugatti, eldest son of Bugatti founder Ettore Bugatti and former designer and test driver of Bugatti.
Jean Bugatti was responsible for the design of the Bugatti Type 41 Royale and most importantly the highly acclaimed Bugatti Type 57 Ventoux, Stelvio, and Atalante models. The Bugatti Type 57 SC Atlantic (One of the few remaining cars is currently owned by Ralph Lauren) in particular highlights the skill of Jean Bugatti. Jean Bugatti was also regularly testing Bugatti prototypes, sadly in 1931, aged 30 Jean died in an accident while testing a Bugatti Type 57 tank-bodied racer.
1938 Bugatti Type 57 SC Atlantic designed by Jean Bugatti
Now you probably wonder how Jean Bugatti inspires 'his' special edition of the Bugatti Veyron Grand Sport Vitesse. Well, drawing inspiration from his mythic designs, the Bugatti Veyron Grand Sport Vitesse Legend Jean Bugatti Edition comes in the same black colour as the Bugatti 57 SC Atlantic. The interior is finished in two tone brown leather and the interior also comes with some special customization inspired by the Type 57 Atlantic that we will keep a secret until its official reveal at the Frankfurt Motor Show 2013!
Also check out the first Légendes de Bugatti Edition; The Bugatti Veyron Grand Sport Vitesse Jean-Pierre Wimille Edition .
About Jean Bugatti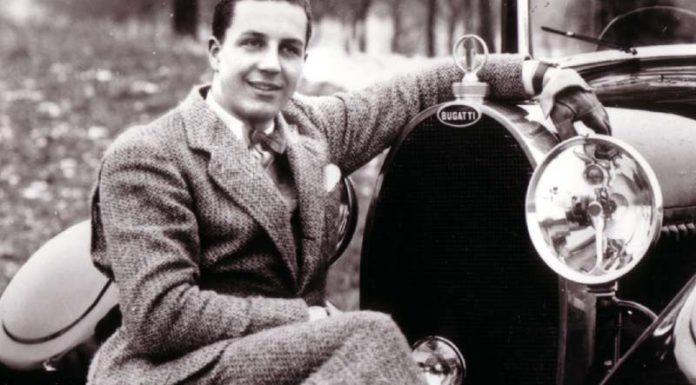 The third of Ettore Bugatti's four children, Gianoberto Maria Carlo Bugatti (or "Jean", as everyone called him) was born on 15 January 1909. From Jean's birthplace Cologne, where his father worked at the Deutz gas-engine plant, the Bugatti family moved first to Milan, then Paris, and finally to Molsheim in Alsace, then a German province and home of the Bugatti car manufacturing plant founded by father Ettore.
Jean spent the major part of his youth, witnessing the first racetrack successes of Bugatti cars. In the late 1920s, he demonstrated his talent with first designs for touring and sports cars. At only 23 years of age, he designed the legendary Roadster Royale two-seat chassis for the textile magnate Armand Esders. Despite its length of six meters, this car was the embodiment of pure elegance. The Bugatti models T50, T55, and T57 also bear Jean Bugatti's unique signature. He designed not only exceptional chassis, but also singularly powerful engines.
Though his father forbade him to enter races, he volunteered as test driver whenever the opportunity presented itself. From 1931 onwards, Jean gradually assumed responsibility for his father's business. 1936, following a national strike, he took over the management of the automobile production. Later, he also became director of the Meo Constantini company racing team. Ettore Bugatti had shifted the focus of his company towards the production of motorized railcars (Autorails), a move that saved the Bugatti company during the Depression. Shortly before the outbreak of World War II, on August 11, 1939, Jean Bugatti crashed the Typ 57 C Tank he was test-driving – the same car that had just recently won the 24-hour race at Le Mans. At more than 200 km/h, he had to swerve to avoid hitting a bicyclist coming out of a country lane. He lost control of the car, hit a tree, and died on the spot. At the time of his tragic death, Jean Bugatti was only 30 years old.