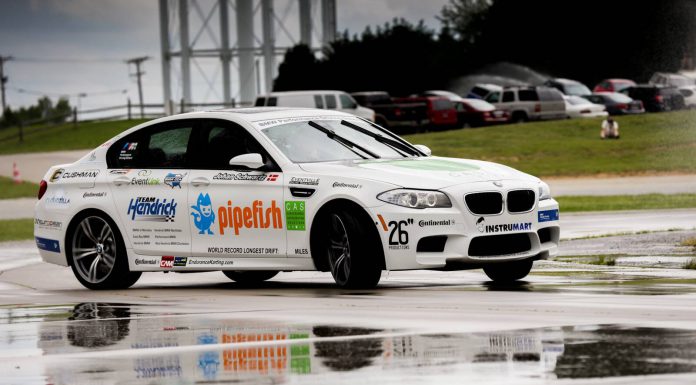 BMW announced today that the its Performance Driving School broke the Guinness World Drift Record! The BMW M5 completed 322.5 laps of an 841-foot circumference Performance Center skid pad. That is a total distance of 51.278 miles!
The record was set at the BMW Performance Center near Greenville, South Carolina on Saturday, May 11, 2013, with BMW Performance Center Instructor Johan Schwartz behind the wheel. It surpasses the previous 47.71 mile record set in February at a similar circuit in Abu Dhabi.
The event kicked off a week of events designed to benefit the BMW Charity Pro-Am. It raised over $20,000 which will benefit over 150 different charities. Visitors were allowed to test the latest BMW products, whilst pro-drivers offered passenger laps.
The car was a M-DCT transmission-equipped 2013 BMW M5 Sedan equipped with a fresh set of Continental ContiSport ultra-high performance tires measuring 255/30/20 at the front and 295/30/20 at the rear.