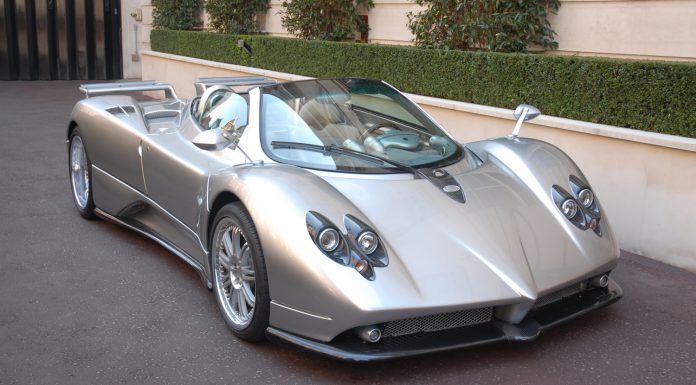 Bob Forstners recently took delivery of a special Pagani Zonda F Clubsport. The car is to be displayed at their Park Lane, London dealership. We believe it will sit alongside another, full carbon fibre Pagani Zonda F. This particular Pagani Zonda F Clubsport Roadster is a little different from the rest though.
Any Pagani Zonda fan will tell you that the Pagani Zonda S, despite being the older model, is in fact rarer than the Pagani Zonda F. The original owner of this car obviously had a passion for the looks of 'S'. Zonda F number 12 of 25 features painted carbon fibre elements, and painted interior components instead of the usual carbon fibre accents. In fact, much of the interior is actually upholstered in leather instead.
Originally built in 2008, this car was delivered to a German owner. In a matter of months, the owner lost control of the car, causing a small amount of damage as the photos reveal. The car was fixed and spotted regularly in Germany before entering Bob Forstners showroom.
Having covered 14,900 miles already, the car is advertised without a sale price. It has a special order light silver metallic paint sheme with beige and silver Ostrich leather interior. It gets chrome alloy wheels, the Zonda S rear spoiler, carbon ceramic brakes, a GPS Navigation System and an inconel/titanium exhaust system.