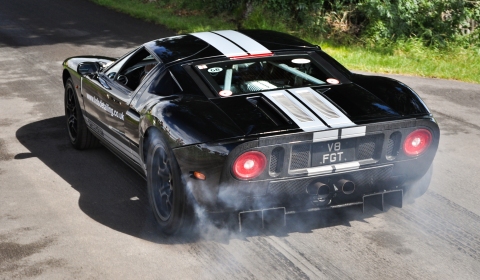 The annual Wilton Classic and Supercars 2012 event features a morning at the Gurston Down Hill Climb, a place where people are able to learn the techniques of speed hill climbing.
The famous track in the South of the UK is located near Wilton House and was a wonderful start to the day for many supercar owners. A total of 100 cars showed up at Gurston Down. Numerous drivers showed their skills, even Lord Pembroke and his Bugatti Veyron Art Car did two runs up the hill!
The line up of cars setting a lap time included two Bugatti Veyron's, two Ford GT's, a bunch of 911's and Ferrari's, three Nissan GTR's and one Pagani Zonda F Clubsport.
Check the galleries for a complete overview of the day. Not all car made it up the hill. The wet track and the slippery conditions was not an ideal situation for many people.
For more information on speed hill climbing at Gurston Down check out their website! We were told they have some interesting courses that will learn you all the techniques.