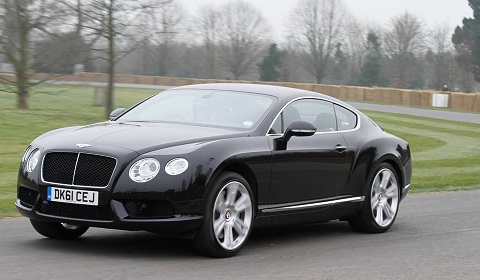 We can exclusively confirm that Bentley will unveil the new Bentley Continental GT Speed at the 2012 Goodwood Festival of Speed. The Continental GT Speed will be joined by two UK debuts including a static display of the Bentley EXP 9 F SUV concept and the Bentley Continental GTC V8. The Continental GT Speed will take to the hill twice a day from June 29th to July 1st.
The Bentley Continental GT Speed follows just a year after the launch of the second generation Bentley Continental GT. Rumoured specifications suggest the 6.0 litre W12 powerplant will get 620hp powering all four wheels coupled to the new close-ratio eight-speed automatic transmission. The new model will sit at the top of the Bentley Continental GT model range.
Bentley will also display the Bentley Continental GTC V8 as part of the Michelin-sponsored Supercar Run. The Bentley Continental GTC V8 features a new Bentley V8 engine delivering maximum power of 507hp at 6,000 rev/min and a peak torque of 660Nm. The V8 engined Bentley will get its first UK demonstration throughout the weekend.
The Bentley EXP 9 F SUV concept will also be on display. It's fitted with the Bentley 6.0 liter, twin-turbocharged W12 engine with an eight-speed transmission. The EXP 9 F features key Bentley design cues such as the matrix grille, round lamps and the strong power-line and haunch along each flank. It has four-wheel drive and seats four plus one. It will be the first UK display for the concept SUV.
We're also told that the cars will be piloted up the hill by Bentley works drivers, Le Mans legend Derek Bell, four-time world rally champion Juha Kankkunen and LeMans winner Guy Smith. Goodwood Festival of Speed isn't just about the modern machinery though. Bentley will be bringing a wide selection of historic racing cars including the 2003 LeMans winning Bentley Speed 8 and a 4½-litre supercharged "Birkin Blower".
We will of course be bringing you full coverage from the Festival of Speed and Moving Motor Show!