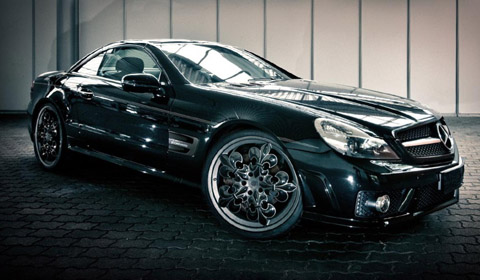 German tuner Graf Weckerle has presented their take on the Mercedes SL63 AMG: the Imperialwagen Comte Noir (The Black Count). The Mercedes SL of the previous generation (R230) received an optical treatment whereby the colour black is the main theme and carried into all areas of the car.
The Graf Weckerle Imperialwagen Comte Noir is finished in high gloss non-metallic black paint. Also black are Graf Weckerle's iconic fleur-de-lis wheels which are hand-assembled from over 180 individual pieces.
The interior of the Imperialwagen Comte Noir feratures various shades and textures of the color black, like the black leather accents and matte anthracite surfaces. For an extra touch there is the massive gold Graf Weckerle brand logo made of pure white gold placed into the upper seat area.
In order to keep up with the visual presence of the Comte Noir theme, Graf Weckerle also offers various engine power tuning upgrades from ECU-remapping and sports exhaust systems to compressor-conversions and turbo upgrades. Furthermore each Graf Weckerle Imperialwagen can be equipped with lightweight full ceramic braking systems and refined suspension components from progressive sports coil springs to custom coil-over suspension systems in order to improve handling and driving dynamics.
No further details regarding performance or pricing has been released. For more information contact Graf Weckerle.
[Via Autoblog.nl]