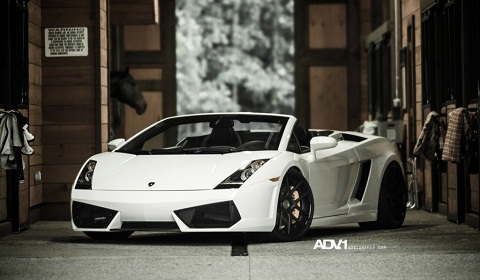 ADV.1 Wheels recently released a range of different photo shoots featuring projects they have completed recently. Instead of bringing you four different posts, we thought we'd combine the ADV.1 goodness into one awesome news article! So below you'll see four different cars with four different sets of wheels!
The first car we have to discuss is the red Lamborghini LP560-4 Spyder you see below. This car is wearing a set of ADV5.0, one-piece, forged aluminium concave rims. The pictures are teaser images for a new program, developed with Lamborghini dealerships and showcased at Prestige Imports, Miami.
The second is a Lamborghini Gallardo Superleggera fitted with a set of ADV5.1 Wheels. Again, these are forged aluminium, one-piece units measuring 20 inches in diameter. The finish is matte black. These rims help reduce the weight of the Superleggera as well as providing an awesome aesthetic upgrade!
The next car is a Lamborghini Gallardo Spyder fitted with an LP560-4 front bumper conversion. ADV.1 fitted a set of their popular ADV5.0 Track Spec's to this car. The three-piece aluminium forged wheels feature matte black spokes and lips. They measure 20 inches in diameter.
Finally, we have a Lamborghini Gallardo Spyder to show you. This Gallardo is fitted with a set of ADV10.1 Monoblocks finished in brushed aluminium, measuring 20 inches in diameter. The car proves how a set of aftermarket wheels can improve the looks without dramatically altering the OEM look.