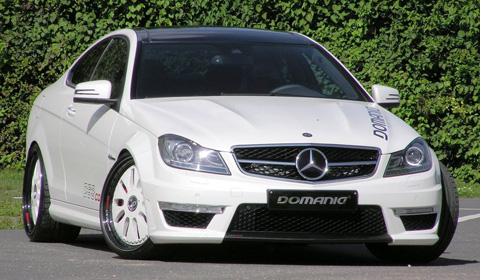 Domanig Autodesign has unveiled their latest package for the Mercedes-Benz C63 AMG coupe. The German tuner boosted the appearance and performance of the C63 AMG coupe.
The Mercedes-Benz C63 AMG Coupe, with the performance package, comes standard with 487hp. Domanig has added 38hp more resulting in a total output of 525hp. Besides the additional power, the German tuner also increased to the top speed to 300km/h.
KW suspension components have been used for lowering and to improve the handling of the car. The exterior of the Benz has further been modified by installing a carbon fiber front spoiler and rear diffuser. The roof is colored in contrasting black. On the inside the colors, trims and accents match the exterior of the car.
Domanig installed DOM03 wheels measuring 9×20 inch with 235/30ZR20 Dunlop Sport Maxx GT tires at the front and 10.5×20 inch with 275/25ZR20 tires at the rear. The inside of these wheels are colored to match the exterior while the outer rims are finished in black high-gloss polished stainless steel.
For more information contact Domanig Autodesign.
[Via Mercedes-Benz Pasion]